Bacon Wrapped Pork Filet in a Sweet Sour Sauce – Recipe
Pork filet is an incredibly versatile and delicious dish, and when wrapped in bacon, it takes on a whole new level of flavor. Bacon-wrapped pork filet in a sweet-and-sour sauce is an irresistible combination of salty and sweet that will tantalize your taste buds with every bite. 
This pork filet is going to make a difference at your barbecue party. This easy-to-make recipe is sure to become a favorite among both novice and experienced chefs alike. With this one, you will please your guests and establish your reputation as a creative cook.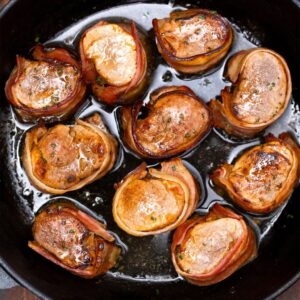 Bacon Wrapped Pork Filet in a Sweet Sour Sauce – Recipe
Ingredients  
4

pork filets

pepper and salt

5

slices

bacon

1/2

pineapple

2

drops

Tabasco

4

mint leaves

1

tbsp

Hone

4

tbsp

lemon juice

1

spring onion
Instructions 
Use a sharp knife to cut the filet into slices about 1" thick without separating them completely. Cut them so you can open them as a book. When you buy a thick piece of meat, make three or more slices.

Mix the Honey and Lemon Juice

Season the meat with the pepper and salt. Use the Honey, Lemon Juice mixture as marinade. Put the bacon on top of your sliced filet . Wrap the piece or pieces in aluminum foil, make sure that the packages are neatly closed and put them in the refrigerator.

Stick wooden cocktail sticks through the wrapped meat at 2" intervals.

Then cut them in pieces so that every piece has a stick in the middle.

Cut the Pineapple pulp in cubes. Chop the spring onion and add two drops of Tabasco. Shred the mint leaves and mix them together with the spring onion through the cubed pineapple pulp.

Grill the meat rolls and serve in a bed of pineapple cube sauce.