Shrimp and Okra Gumbo in Blond Roux With White Rice Recipe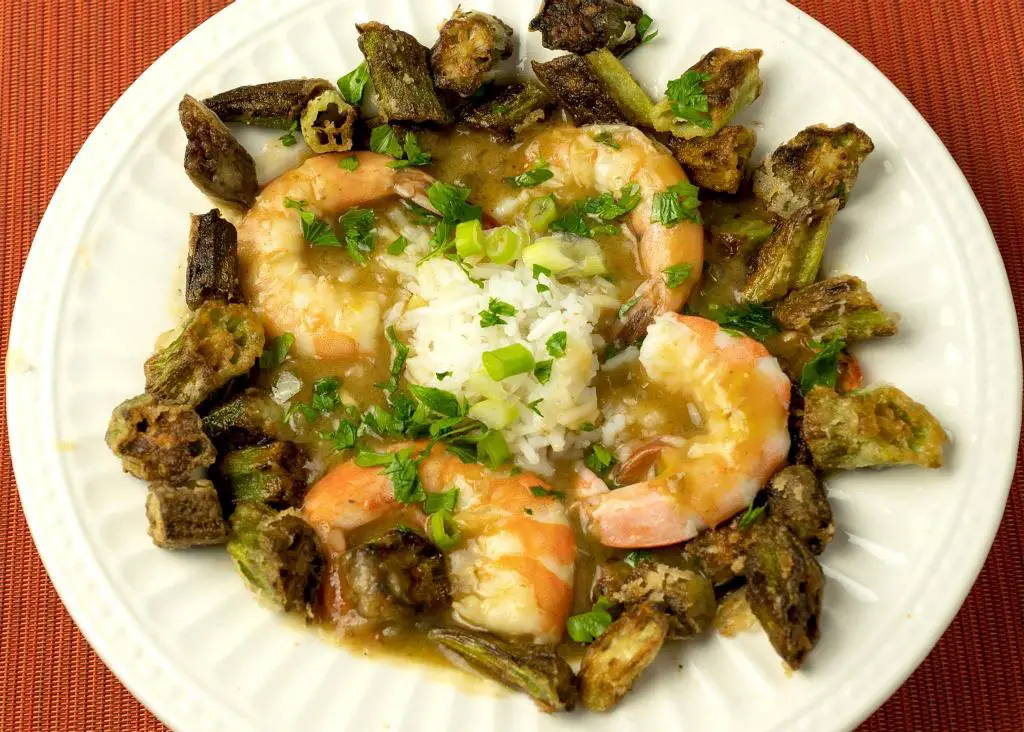 Dive into the rich culinary heritage of the American South with our Shrimp and Okra Gumbo in Blond Roux With White Rice. This dish is a beloved classic that hails from the bayous of Louisiana, where the fusion of African, French, and Spanish influences has created a unique and flavorful cuisine.
 Gumbo, at its essence, is a symbol of community, comfort, and the art of slow-cooked goodness. With succulent shrimp, tender okra, and a silky blond roux, this recipe embodies the heartwarming essence of Southern cooking.
Why You'll Love Shrimp and Okra Gumbo in Blond Roux With White Rice Recipe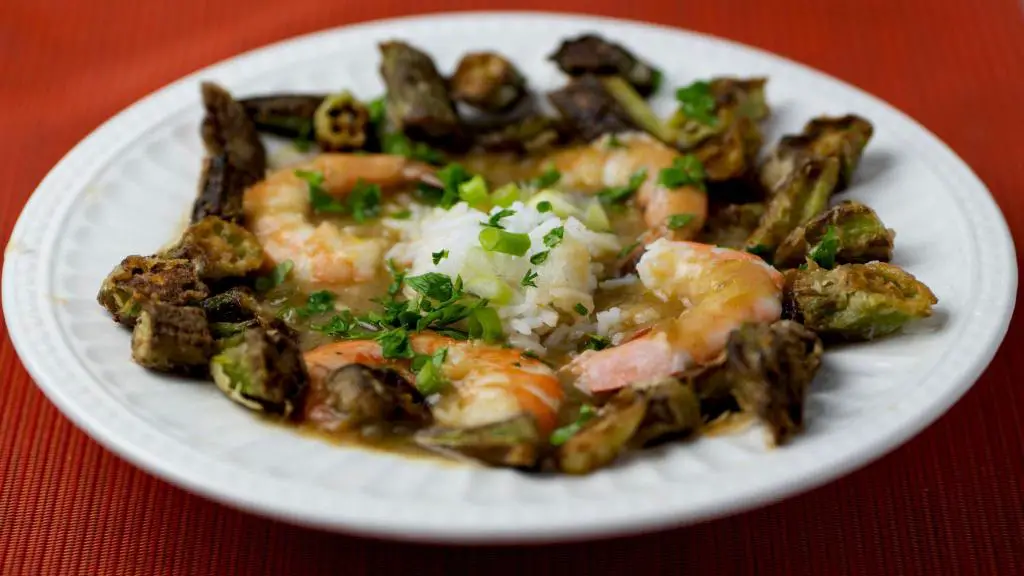 I adore this Shrimp and Okra Gumbo for several reasons, and I believe you will too. Firstly, it's a delicious taste of the South, offering a symphony of flavors that dance on your palate. The combination of shrimp, okra, and the blond roux creates a harmonious balance of textures and tastes. Secondly, it's surprisingly easy to make, even for those new to Southern cuisine. Plus, the aroma that fills your kitchen as it simmers is nothing short of intoxicating. Lastly, this dish is versatile. Whether you're serving it up for a special occasion or a cozy weeknight dinner, it's a crowd-pleaser that will make you a kitchen superstar.
Key Ingredients in Shrimp and Okra Gumbo
Let's break down the key ingredients in our Shrimp and Okra Gumbo and understand their roles:
Shrimp: The star of the show, shrimp infuses the gumbo with a delightful seafood flavor. They should be peeled and deveined to make eating easier.
Okra: Okra adds a unique texture and a mild, earthy flavor to the gumbo. It also acts as a natural thickening agent.
Blond Roux: The roux, made from vegetable oil and all-purpose flour, is the foundation of the gumbo, providing a silky consistency and a subtle nutty flavor.
Vegetables: Diced onion, bell pepper, celery, and minced garlic form the aromatic base of the gumbo, lending depth and complexity to the flavor.
Broth: Chicken or seafood broth serves as the liquid base for the gumbo, infusing it with a savory essence.
Tomatoes: Canned diced tomatoes add a hint of acidity and a burst of color to the dish.
Spices: Bay leaves, dried thyme, dried oregano, and paprika contribute to the gumbo's distinctive flavor profile.
Seasoning: Salt and pepper are added to taste, enhancing the overall savory goodness.
White Rice: Long-grain white rice serves as the perfect fluffy bed for your gumbo, complementing its flavors and textures.
Instructions for Shrimp and Okra Gumbo
Now, let's get cooking! Follow these simple steps to create your own Shrimp and Okra Gumbo:
Begin by cooking the white rice according to package instructions until it's fluffy and tender.
In a large pot, heat vegetable oil and stir in flour to create a pale golden blond roux.
Add diced onion, bell pepper, celery, and minced garlic. Sauté until the vegetables soften.
Slowly pour in chicken or seafood broth, diced tomatoes, bay leaves, thyme, oregano, and paprika. Bring it to a gentle boil.
Reduce the heat and let the gumbo simmer for 20-25 minutes, allowing the flavors to meld.
Add sliced okra and shrimp, simmer for an additional 5-7 minutes until shrimp turn pink.
Season with salt and pepper, and remove the bay leaves.
To serve, spoon the gumbo over a mound of white rice in each bowl. Optionally, add a drizzle of hot sauce for an extra kick.
Enjoy your delicious Shrimp and Okra Gumbo that captures the essence of Southern comfort!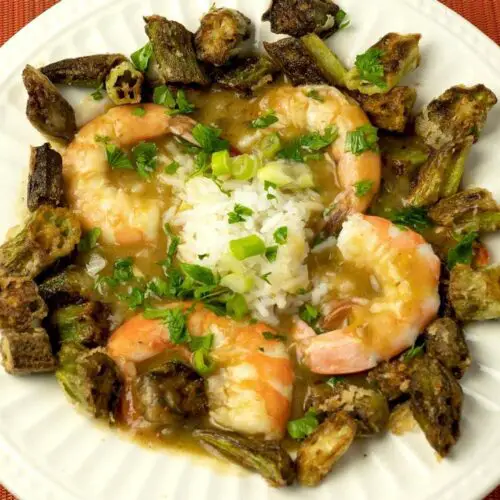 Shrimp and Okra Gumbo in Blond Roux With White Rice
Delve into the heartwarming world of Southern cuisine with our Shrimp and Okra Gumbo in Blond Roux With White Rice. This classic dish brings together succulent shrimp, tender okra, and a silky blond roux, all simmered to perfection in a rich, flavorful broth. Serve it over a bed of fluffy white rice for a truly satisfying meal that's sure to transport your taste buds to the bayous of Louisiana.
Equipment
Large heavy-bottomed pot or Dutch oven

Wooden spoon or roux whisk

Cutting board and knife

Measuring cups and spoons

Rice cooker or saucepan for rice
Ingredients  
For the Gumbo:
1

pound

large shrimp

peeled and deveined

1

cup

sliced okra

fresh or frozen

1/2

cup

diced onion

1/2

cup

diced bell pepper

green or red

1/2

cup

diced celery

3

cloves

garlic

minced

1/4

cup

vegetable oil

1/4

cup

all-purpose flour

4

cups

chicken or seafood broth

1

can

14 ounces diced tomatoes

2

bay leaves

1

teaspoon

dried thyme

1

teaspoon

dried oregano

1/2

teaspoon

paprika

Salt and pepper to taste

Hot sauce

optional, for serving
For the White Rice:
1

cup

long-grain white rice

2

cups

water

Pinch

of salt
Notes
Tips:
If you're not a fan of okra's sliminess, you can briefly sauté it in a separate pan with a bit of oil before adding it to the gumbo.

Customize the spice level by adjusting the amount of hot sauce or adding cayenne pepper.

Gumbo tastes even better the next day, so consider making a batch ahead of time for a delightful leftover meal.
Nutrition (per serving):
Calories: 400

Protein: 25g

Carbohydrates: 52g

Fat: 12g

Fiber: 5g

Sodium: 900mg
FAQs on Shrimp and Okra Gumbo in Blond Roux With White Rice Recipe
Can I use fresh okra instead of frozen?
Absolutely! Fresh okra works wonderfully in this gumbo. Simply slice it and use it in the same way as frozen okra.
What can I substitute for shrimp if I have allergies?
You can substitute shrimp with diced chicken, sausage, or even tofu for a vegetarian version. Adjust cooking times accordingly.
How spicy is this gumbo?
This recipe has a mild to medium spice level. You can make it spicier by adding more hot sauce or cayenne pepper to taste.
Can I freeze leftover gumbo?
Yes, you can freeze leftover gumbo in an airtight container for up to three months. Thaw and reheat it on the stovetop or in the microwave.
Is a roux necessary for gumbo?
Yes, a roux is a crucial element in traditional gumbo. It adds flavor and thickens the broth. However, if you're looking for a gluten-free option, you can use a gluten-free flour or cornstarch as a roux alternative.