Charred Shrimp with Quick Cocktail Sauce Recipe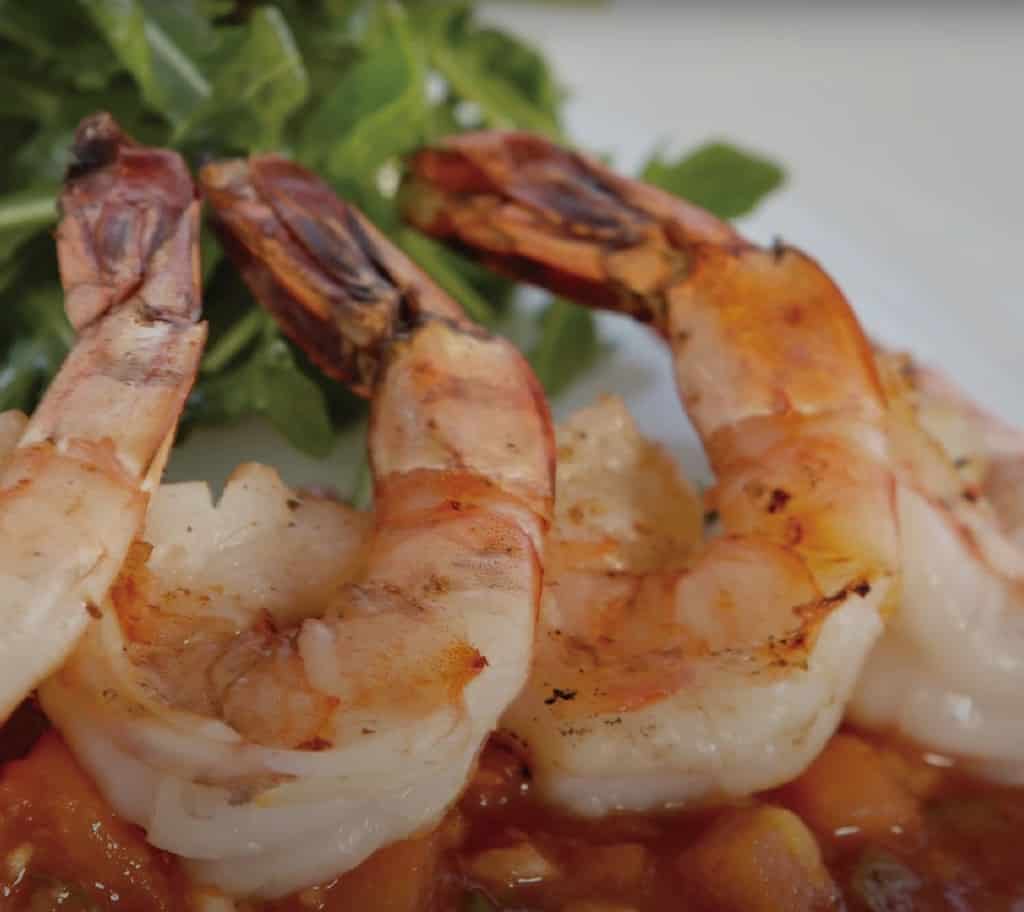 We know shrimp cocktail is a classic appetizer, but let's be honest. Sometimes it can be a little, well, boring.
We think it's time to spice things up with this fiery version of the appetizer we all grew up with. We dare you to go back to cold, flimsy shrimp cocktails after trying this dish.
I stumbled upon the tantalizing world of Charred Shrimp with Quick Cocktail Sauce. The idea of perfectly grilled shrimp, paired with a tangy and bold cocktail sauce, intrigued me. A symphony of flavors awaited, promising to elevate my mealtime to new heights. With a sizzle on the grill and a blend of vibrant ingredients, this recipe beckoned me to try something truly delightful.
Why You'll Want to Try Charred Shrimp with Quick Cocktail Sauce Recipe
Imagine this scenario: a warm breeze, the inviting aroma of grilled seafood, and a sauce that combines sweet, spicy, and savory elements. This recipe encapsulates the essence of a laid-back summer evening, yet it's versatile enough to fit any season. It's the kind of dish that transcends mere sustenance and transforms into an experience—a culinary journey that tantalizes both the palate and the senses.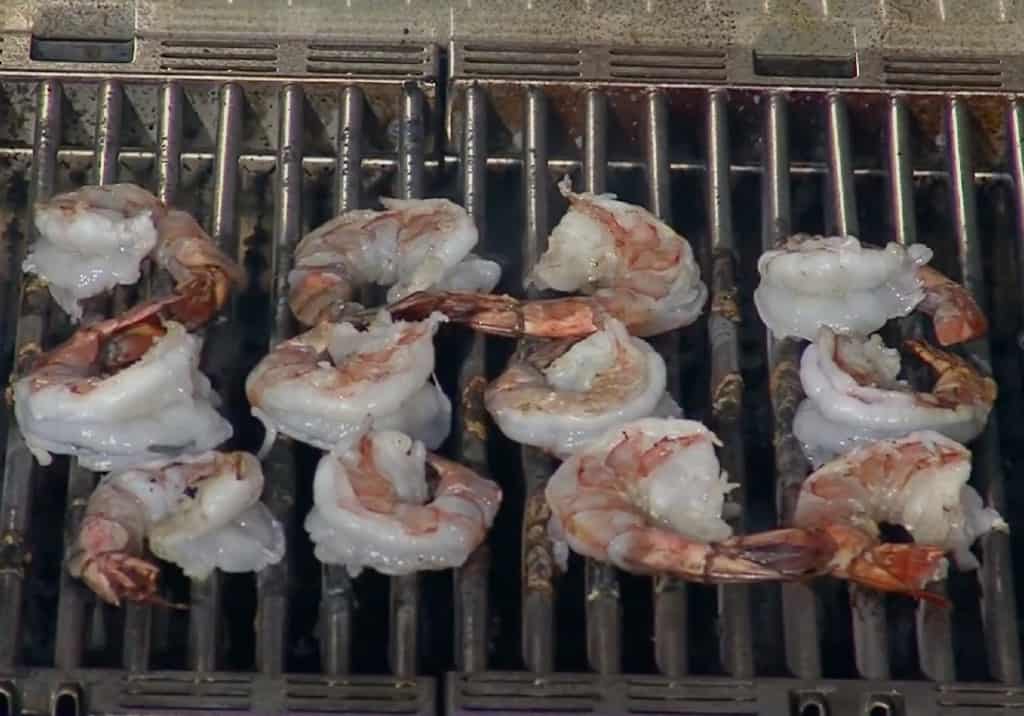 Tip 1: Use stainless steel dual skewers to keep the shrimp from rotating and to make flipping them easier.
Tip 2: Keep an eye on your shrimp and use your side burner to cook homemade cocktail sauce outside while the shrimp are grilling. If your grill doesn't have a side burner, place the pot directly on the grate.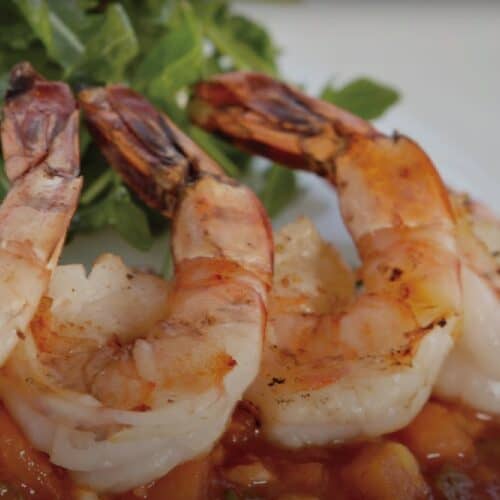 Charred Shrimp with Quick Cocktail Sauce Recipe
Elevate your culinary repertoire with Charred Shrimp paired with Quick Cocktail Sauce. This recipe blends the succulence of perfectly grilled shrimp with a zesty cocktail sauce, creating a symphony of flavors that will make your taste buds dance. Whether it's a summer barbecue or a cozy indoor meal, this dish promises a delightful journey for your palate.
Ingredients  
For Brine:
Large shrimp

4

cups

ice

2

cups

water

½

cup

sugar

½

cup

kosher salt
For Cocktail Sauce:
6

cloves

garlic

crushed and diced

2

cups

diced tomato

1

jalapeño

diced

2

tablespoons

brown sugar

½

cup

Asian chili sauce

4

tablespoons

horseradish

1

cup

red wine

1

tablespoon

Old Bay seasoning

1

tablespoon

hot sauce

1

large pinch corn starch
Instructions 
Preheat the grill to medium heat.

In a large bowl, prepare the brine by mixing ice, water, sugar, and kosher salt until dissolved. Add the shrimp and let them soak for 25-30 minutes.

In a mixing bowl, combine crushed garlic, diced tomato, jalapeño, brown sugar, Asian chili sauce, horseradish, red wine, Old Bay seasoning, hot sauce, and corn starch to create the cocktail sauce.

Transfer the cocktail sauce mixture to a saucepan, bring it to a boil, then reduce to a simmer and cook for 8-10 minutes.

Grill the shrimp using skewers, a griddle, or a steamer tray for 1-2 minutes per side until charred and cooked through.

Plate the charred shrimp and generously spoon the cocktail sauce over them.
Notes
Tips:
Use large shrimp for better texture and flavor absorption.

Adjust the level of heat in the cocktail sauce by modifying the amount of jalapeño and hot sauce.

Control the thickness of the sauce by adding more or less corn starch.
Nutrition (Per Serving):
Calories: 150 kcal

Total Fat: 2g

Saturated Fat: 0.5g

Cholesterol: 180mg

Sodium: 1600mg

Total Carbohydrates: 15g

Dietary Fiber: 1g

Sugars: 10g

Protein: 18g
FAQs on Charred Shrimp with Quick Cocktail Sauce Recipe
Can I use frozen shrimp?
Yes, just ensure they're thawed and patted dry before brining.
What if I don't have all the cocktail sauce ingredients?
Feel free to adapt the recipe to your taste preferences. Experiment with available ingredients.
Can I use the cocktail sauce for other dishes?
Absolutely, it complements various seafood and even appetizers like shrimp cocktails.
Can I make the cocktail sauce less spicy?
Reduce or omit the jalapeño and hot sauce for a milder version.
Can I marinate the shrimp in the cocktail sauce?
It's best to avoid marinating in the sauce to prevent over-marination and maintain a balanced flavor profile.
What's the purpose of the brine?
The brine enhances the shrimp's moisture and flavor, resulting in plump, flavorful bites.
Can I substitute fresh tomatoes with canned tomatoes for the cocktail sauce?
While fresh is preferable, canned diced tomatoes can be a suitable alternative.