Bourbon Glazed Grilled Sausage and Onions Sandwich Recipe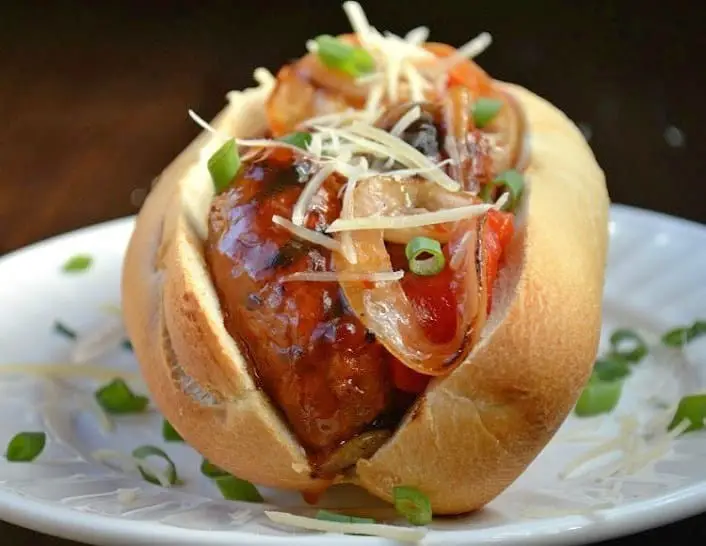 Looking for a mouthwatering twist on classic grilled sausages? Look no further than this delectable Bourbon Glazed Grilled Sausage and Onions Sandwich recipe. The combination of juicy sausages, grilled onions, roasted red peppers, and a tantalizing bourbon glaze creates a sandwich that's bursting with flavors and textures. 
This recipe is the perfect way to elevate your grilling game and impress your friends and family at your next barbecue gathering.
A Flavorful Symphony of Ingredients
To create this scrumptious sandwich, you'll need a few key ingredients. First, prepare the star of the show: 2 pounds of hot or sweet sausages, cut to a perfect 2-3 inch length. Don't forget about the foundation of your sandwich – rolls that will hold all these mouthwatering components together. 
For that extra burst of sweetness and crunch, you'll be grilling 3 large Vidalia onions until they're beautifully caramelized. Sliced roasted red peppers add a pop of color and a smoky element to the sandwich. And let's not forget about the final touch – a generous sprinkle of shredded Parmesan cheese to bring it all together.
Crafting the Irresistible Bourbon Glaze
The magic truly happens with the homemade bourbon glaze. In a small pot, combine 3/4 cup of bourbon or whiskey with 1/2 cup of brown sugar, 1 cup of ketchup, 1 tablespoon of Worcestershire sauce, 1 tablespoon of fresh lemon juice, 1 teaspoon of chili with garlic sauce (or Sriracha), and 1/2 teaspoon of cornstarch. 
Whisk this delectable mixture until everything is beautifully combined. Heat the mixture over medium-high heat until it comes to a boil. A nifty trick here: reserve a small amount of the sauce, add cornstarch to it, and create a thickening agent. Then, reintroduce it to the pot and continue boiling, whisking occasionally, until the glaze is perfectly luscious and coats the back of a spoon.
Grill, Assemble, and Savor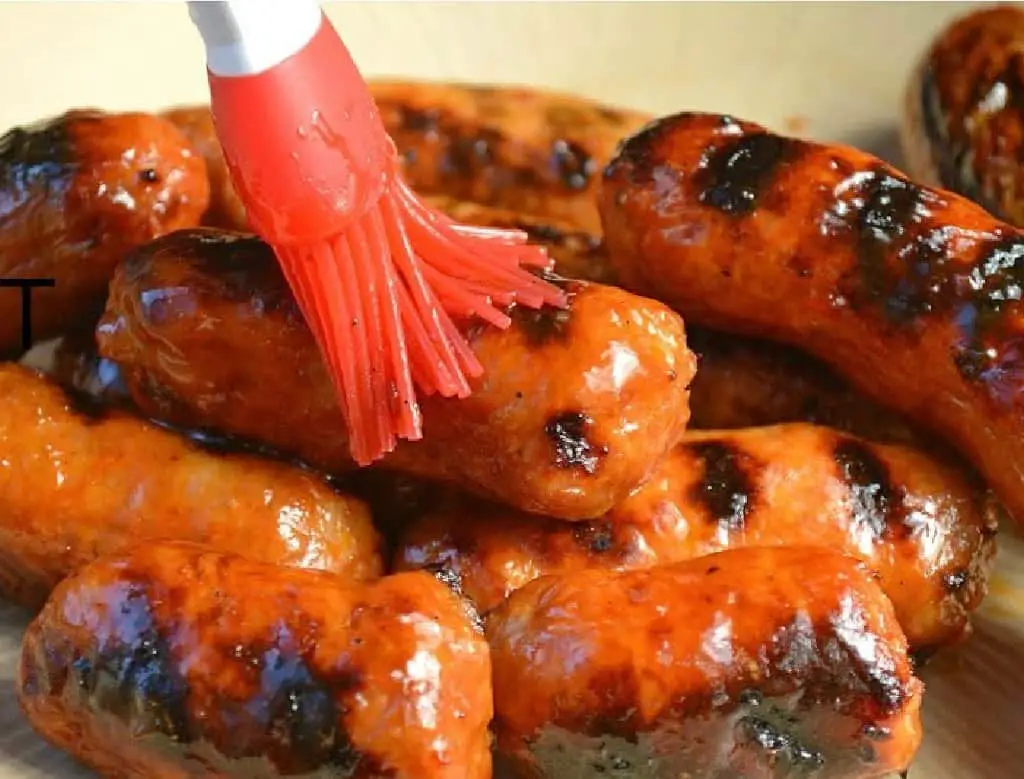 With your glaze ready and waiting, fire up the grill! While the sausages cook to perfection, slice the Vidalia onions into thin rounds and grill them until they're wonderfully tender, brushing them with a touch of oil and a hint of the bourbon glaze along the way. 
Once your sausages are grilled to juicy perfection, give them a final touch by liberally brushing on that luscious bourbon glaze.
To assemble the sandwich, split the rolls and pile on the grilled onions and roasted red peppers. Top it all off with the succulent sausages, and don't hold back on those toppings – drizzle on more glaze, sprinkle some Parmesan cheese, and feel free to add some greens if you're feeling extra fresh. 
This sandwich is an absolute delight that combines the richness of bourbon glaze, the savoriness of sausages, and the satisfying crunch of grilled onions. Plus, here's a handy tip: you can make the glaze ahead of time and store it in the refrigerator for a quick and easy assembly when hunger strikes.
Now you're all set to enjoy this masterpiece of a sandwich. The blend of flavors and textures will surely have you craving it again and again. So, gather your ingredients, fire up the grill, and get ready to indulge in the wonderful world of Bourbon Glazed Grilled Sausage and Onions Sandwiches!
How To Make the Glaze Less Spicy?
Curbing the fiery kick of the glaze is a breeze, ensuring your taste buds don't get overwhelmed. If you're looking to dial down the spiciness, fret not! Here's a simple trick: tweak the chili sauce quantity based on your personal spice threshold. This small yet impactful adjustment lets you tailor the glaze to match your preferred level of heat. Remember, you're the boss of your dish, and this customization ensures each bite is just the right balance of flavors.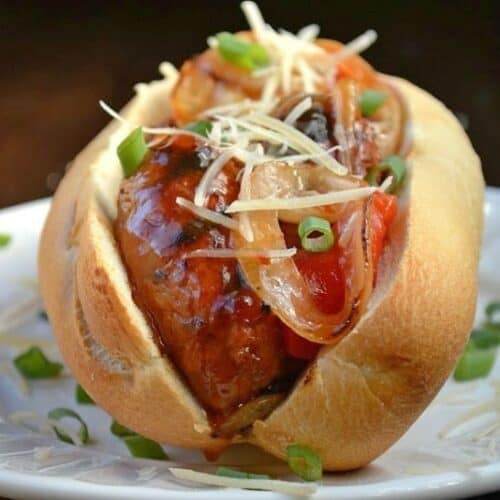 Bourbon Glazed Grilled Sausage and Onions Sandwich
Indulge in a symphony of flavors with our Bourbon Glazed Grilled Sausage and Onions Sandwich. This recipe takes classic sausages to new heights, combining succulent grilled meats, caramelized onions, roasted red peppers, and a tantalizing bourbon-infused glaze. Elevate your grilling game and savor a sandwich that's both savory and sweet, perfect for gatherings and casual delights.
Ingredients  
2

pounds

hot or sweet sausage

cut to 2-3 inches in length

Rolls

3

large Vidalia Onions

2

roasted red peppers

sliced

1/2

cup

Parmesan cheese

shredded

For Bourbon Glaze

3/4

cup

bourbon or whiskey

1/2

cup

brown sugar

1

cup

ketchup

1

Tablespoon

Worcestershire sauce

1

Tablespoon

fresh lemon juice

1

teaspoon

chili with garlic sauce

or Sriracha

1/2

teaspoon

cornstarch
Instructions 
First, make the glaze by combining the bourbon, sugar, ketchup, Worcestershire sauce, lemon juice and chili with garlic sauce (or Sriracha) in a small pot. Whisk until combined.

Heat the mixture over medium-high heat until it comes to a boil. Take 2 TBS or so of the sauce and place it into a small bowl, add the cornstarch to it, and mix until the cornstarch dissolves.

Carefully scrape all of the mixture back into the pot and continue to boil for 2 minutes, whisking occasionally. Remove from heat. Taste and adjust flavor to your preference and set aside. (Bourbons and whiskies vary in strength and taste, feel free to add more sugar or ketchup, etc. until you achieve the flavor you enjoy best)

Fire up your grill, slice the onion into thin slices and lightly brush with a bit of oil. Season with salt and pepper and grill over med-high heat, moving them around from time to time to prevent charring.

Halfway through, brush the onions with a bit of the Bourbon Glaze. Continue cooking until the onions are done to your liking. Place them in a small bowl and cover with foil until ready to assemble the sandwiches.

On the other side of the grill, cook your sausages. As soon as you take the sausages off of the grill, liberally brush them with Bourbon Glaze.

Assemble sandwiches by splitting the rolls, piling on onions and roasted peppers, then topping with the sausages. Add additional onions and glaze over-top, as well as Parmesan cheese.

Notes: If you are not a huge fan of the taste of Bourbon, start with 1/2 cup – you can add the other 1/4 cup after you have tasted it. Some Bourbons are very strong. Feel free to add greens to your sandwiches as well. Glaze can be made 1-2 days ahead of time and kept in the refrigerator in a sealed jar.
Notes
Tips:
You know when you cut sausage with a knife, it starts building up on the knife and you have to either scrape it against your cutting board or wipe it clean as you go? WELL…after years and years of doing just that, I learned a new trick. A few years ago, as I was standing in line for meat from my local Amish Farmer's Market, I watched as one of the girls was cutting sausage with SCISSORS for a customer. I was dumbstruck…WHY had I (who often has MacGyver-like skills) NOT thought to do this?? It's the little things ?

Adjust bourbon quantity if desired; start with 1/2 cup if you're not a strong bourbon fan.

Customize with your favorite greens or veggies for added freshness.

The bourbon glaze can be made ahead and stored in the refrigerator for 1-2 days.
Nutrition (Per serving):
Calories: 550

Fat: 25g

Carbohydrates: 53g

Protein: 20g

Fiber: 3g
Common Questions on Bourbon Glazed Grilled Sausage and Onions Sandwich Recipe
Can I use a different type of sausage?
Absolutely! Feel free to choose your favorite sausage variety.
Is the bourbon glaze alcohol-free after cooking?
Yes, the alcohol cooks off during the process, leaving behind the rich flavor.
What other toppings can I add to the sandwich?
Get creative! Try adding sliced avocado or grilled avocado, arugula, or even a fried egg for extra indulgence.
What kind of rolls work best for this sandwich?
Opt for hearty rolls with a slightly crusty exterior, like ciabatta or artisan rolls.
Do I need to marinate the sausages before grilling?
The bourbon glaze provides plenty of flavor, so there's no need for additional marination.
Can I make these sandwiches in advance for a picnic?
While it's best to assemble them fresh, you can prepare all components in advance and assemble just before serving for optimal taste and texture.