Grilled Avocado with Mediterranean Salad Recipe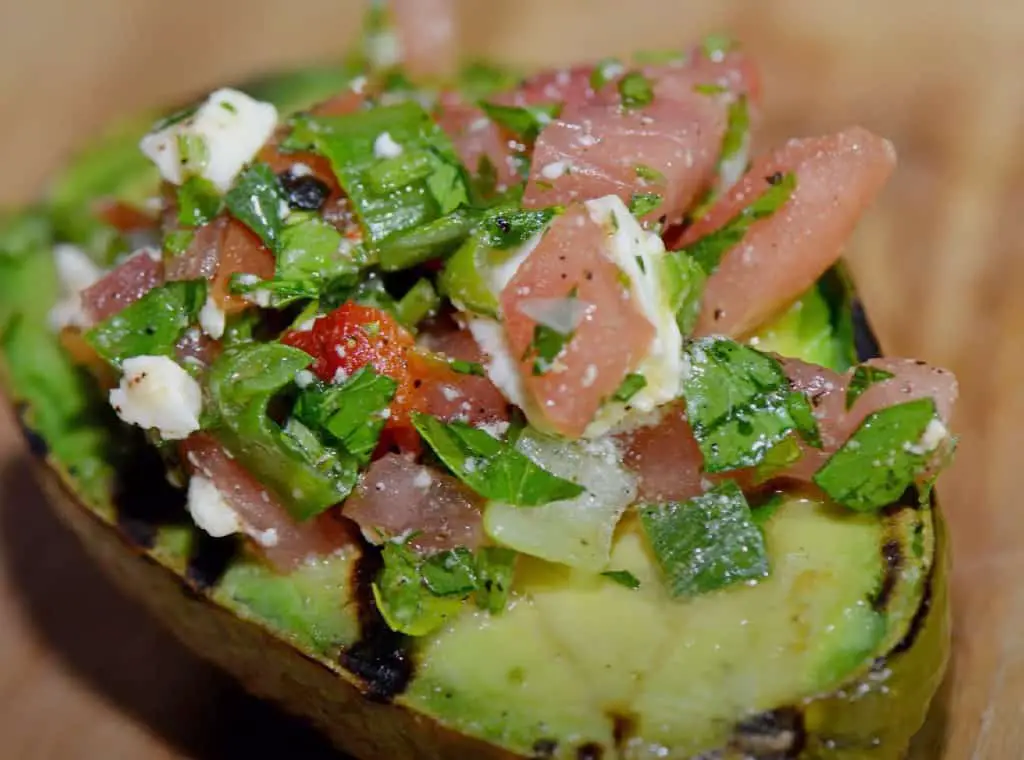 Step into a culinary embrace where the luscious creaminess of avocados meets the vibrant medley of Mediterranean ingredients. The Grilled Avocado with Mediterranean Salad is a revelation, bringing together two worlds in tantalizing harmony. Imagine the silky texture of grilled avocado seamlessly blending with the invigorating burst of tomatoes, the snap of cucumbers, and the irresistible tang of olives and feta.
If you've never had grilled avocado, this recipe will be the perfect first taste. Because of the high fat content, a grilled avocado transforms into a mouth-watering custard-like texture. Think crème brulee on the grill, and enjoy.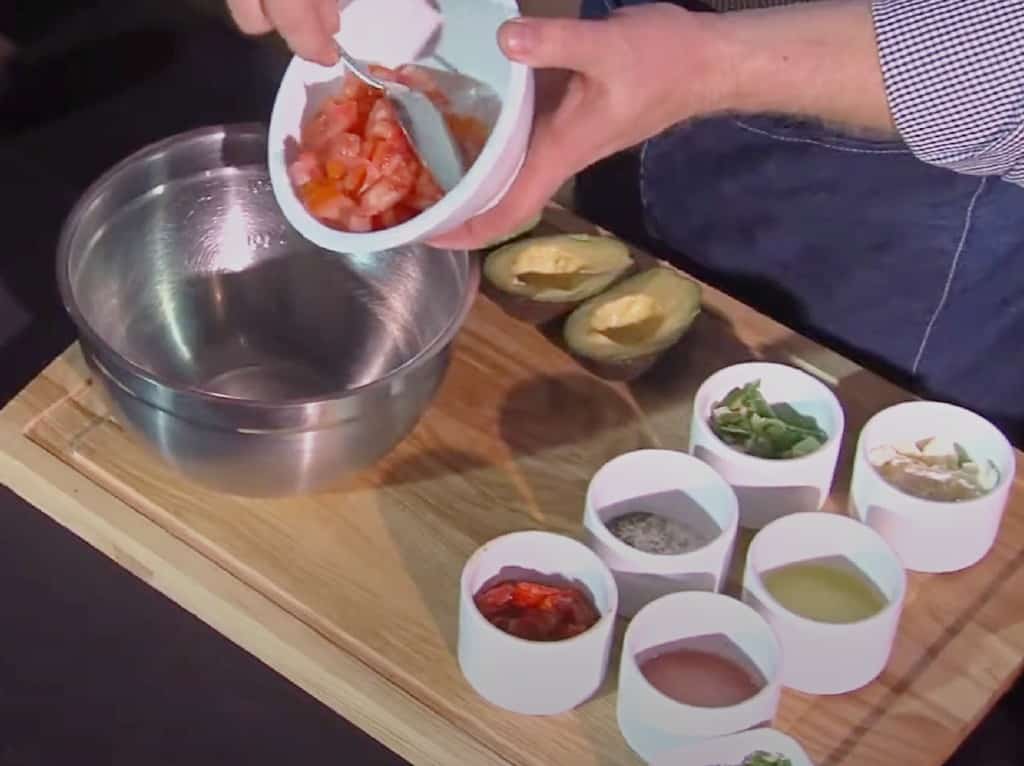 Why You'll Want to Try Grilled Avocado with Mediterranean Salad Recipe
This recipe encapsulates the essence of indulgence and freshness, making it a coveted addition to both light meals and appetizer spreads. With each bite, you'll experience a burst of flavors that captivate your taste buds, creating a culinary journey that's equal parts comfort and adventure. The creamy avocado adds a luxurious touch, while the Mediterranean salad injects vitality and zest, resulting in a dish that's as satisfying as it is refreshing.
How To Make This Recipe Suitable for Vegans
For those embracing a vegan lifestyle, transforming the Grilled Avocado with Mediterranean Salad into a delectable vegan masterpiece is effortless. The journey to vegan-friendly delight involves two simple yet impactful steps, ensuring that every mouthful remains a celebration of flavors and choices.
Feta-Free Savory Excellence: To respect the principles of veganism, bid adieu to traditional feta cheese. Instead, introduce a plant-based alternative that brings its own unique charm to the salad. Think almond-based feta or tofu crumbles, both of which offer a creamy texture and a satisfyingly tangy note, mirroring the essence of the original recipe.
Substitute with a Plant-Based Marvel: Embrace the versatility of vegan ingredients by introducing a plant-based alternative that mirrors the creaminess and umami of feta cheese. Consider cashew-based cheese or nutritional yeast for that coveted cheesy profile. As you mix these substitutes with the vibrant Mediterranean salad, you'll create a vegan masterpiece that resonates with flavor and ethics.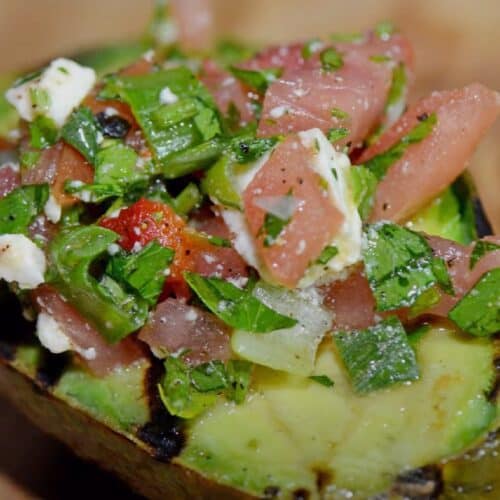 Grilled Avocado with Mediterranean Salad Recipe
Elevate your culinary experience with the Grilled Avocado with Mediterranean Salad. This recipe introduces the creamy allure of grilled avocado to the invigorating palette of Mediterranean ingredients. The result? A dish that intertwines indulgence and freshness, making it a star player for your next light meal or appetizer spread.
Ingredients  
1

cup

diced

ripe tomatoes

1/2

cup

diced roasted red peppers

1/2

cup

crumbled feta cheese

1

Tablespoon

red wine vinegar

4

teaspoons

extra virgin olive oil

1

green onion

minced

1/4

teaspoon

salt

1/4

teaspoon

ground black pepper

3

Tablespoons

minced parsley

3

ripe avocados

halved with pit removed *Be careful not to choose super soft avocados. They should have some give, but not be very soft

3

teaspoons

lemon juice

Additional salt and pepper for seasoning avocados and additional olive oils to brush on avocados
Instructions 
Grilled Avocado:
Preheat the grill to medium-high heat.

Drizzle the avocado halves with olive oil, and season with salt and pepper.

Place the avocados cut-side down on the grill. Grill for about 2-3 minutes, until grill marks appear.

Remove from the grill and set aside.
Mediterranean Salad:
In a large bowl, combine the cherry tomatoes, cucumber, red onion, Kalamata olives, feta cheese, and chopped parsley.

In a small bowl, whisk together the extra-virgin olive oil, red wine vinegar, salt, and pepper.

Pour the dressing over the salad ingredients and toss to combine.
Assembling:
Arrange the grilled avocado halves on a serving plate.

Spoon the Mediterranean salad into the avocado halves, allowing the flavors to meld.

Garnish with additional crumbled feta cheese and a sprinkle of fresh parsley.
Notes
Tips:
Choose ripe but firm avocados for grilling to ensure they hold their shape.

Customize the Mediterranean salad by adding ingredients like bell peppers or artichoke hearts.

For extra smokiness, consider grilling the red onion slices before adding them to the salad.
Nutritions (Per Serving):
Calories: 350 kcal

Total Fat: 28g

Saturated Fat: 6g

Cholesterol: 20mg

Sodium: 550mg

Total Carbohydrates: 20g

Dietary Fiber: 10g

Sugars: 4g

Protein: 8g
FAQs on Grilled Avocado with Mediterranean Salad Recipe
Can I use different types of olives?
Absolutely! Experiment with various olives to discover the flavor profile that suits your taste best.
What's the best way to tell if an avocado is ripe?
Gently press near the stem. If it yields slightly, it's ripe and ready to enjoy.
Can I grill the avocados with the skin on?
Grilling avocados with the skin on can lead to overcooking. It's best to halve and pit them before grilling.
Is feta cheese necessary for the salad?
Feta adds a delightful tang, but you can substitute it with other soft cheeses like goat cheese or even mozzarella.
Can I prepare the salad dressing in advance?
Absolutely! Whisk the dressing ahead of time and store it in the refrigerator. Just give it a good shake before using it.
Can I use frozen avocado for grilling?
Fresh avocados are recommended for grilling as frozen avocados might turn mushy when thawed.