Marinated Cedar Planked Salmon Recipe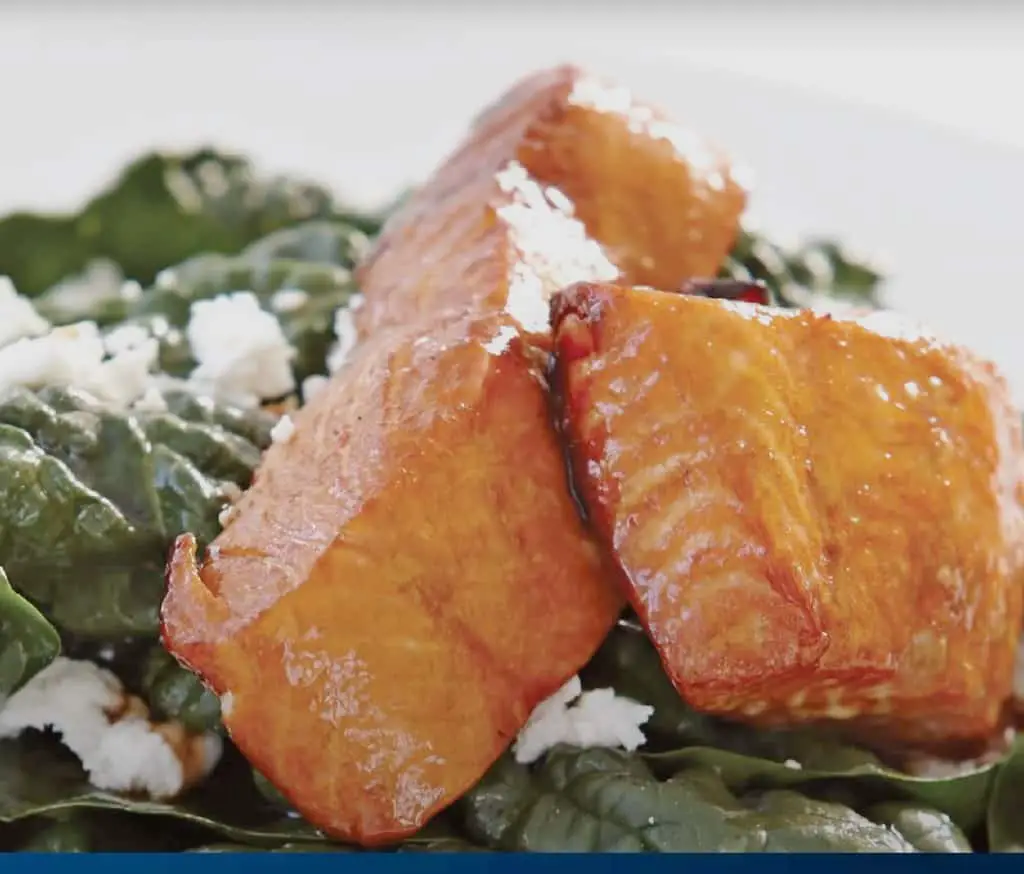 Are you fishing around for the best way to cook salmon? Look no further than this simple and delicious recipe from Chef Timothy Grandinetti.
By cooking this salmon on a plank, you add a wonderful light, smoky flavor that perfectly balances its rich, sweet marinade.
If you've never grilled with a plank, it's easy. First, choose a plank. Western cedar is a popular grilling plank, but alder, apple, cherry, hickory, and maple are great options, as well.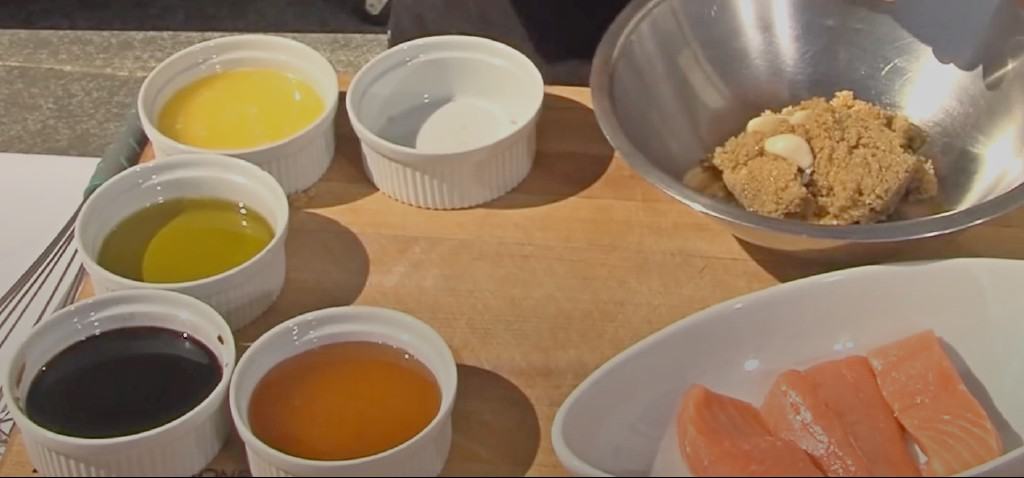 Next, prepare the plank by submerging it in water for about one to four hours. You can enhance the plank's flavor by adding one tablespoon of salt to the water. Apple cider vinegar, white wine vinegar, citrus or berry juice, or a flavored alcohol will also add extra flavor to the plank.
Next, prepare your salmon. If you're grilling whole fillets, cut them into serving-size portions or use individual steaks. Add a dry rub or marinade to the salmon, or just grill it naturally.
Prepare your grill. Place the plank on the grates and the fish on the plank. Grill until done.
For the perfect side dish to this recipe, toss some veggies on the grill and douse them in some EVOO and soy sauce to complement the flavor of the salmon.
Can I Use Frozen Salmon for This Recipe?
When contemplating the use of frozen salmon in our Marinated Cedar Planked Salmon recipe, a crucial consideration arises. Let's dive into the nitty-gritty to ensure your culinary adventure is nothing short of perfection.
Fresh Salmon Unveiled:
Texture and Flavor: Fresh salmon takes center stage here, offering a tender and succulent bite that's unparalleled. Its delicate texture and natural flavors harmonize beautifully with the marinade, creating a symphony of taste that's hard to match.
Frozen Salmon on the Table:
Thawing Matters: If your heart is set on using frozen salmon, take heed. Proper thawing is the key. To prevent moisture and flavor loss, ensure the salmon is gradually thawed in the refrigerator. Once thawed, gently pat the salmon fillets dry with paper towels to remove excess moisture.
Thawing Table:
| | |
| --- | --- |
| Salmon Preparation | Thawing Time |
| Fresh Salmon | Not applicable |
| Frozen Salmon in Fridge | 8–12 hours, or overnight |
| Frozen Salmon in Cold Water | 1-2 hours (sealed in plastic) |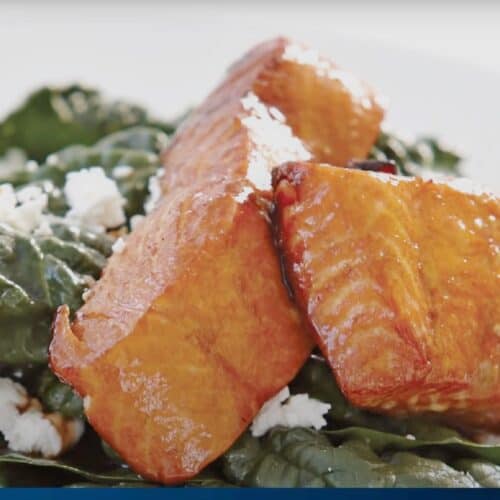 Marinated Cedar Planked Salmon Recipe
Elevate your culinary journey with our Marinated Cedar Planked Salmon recipe. Experience the harmony of succulent salmon marinated in a delicate blend of flavors, grilled on a cedar plank for a smoky touch. Unveil a dish that marries the richness of salmon with the earthy essence of cedar, resulting in an exquisite gastronomic masterpiece that's easy to create at home.
Ingredients  
Planked Salmon

¼

cup

melted butter

¼

cup

extra virgin olive oil

1

cup

honey

1

cup

soy sauce

4

cloves

minced garlic
Instructions 
Preheat half of the Saber® grill to medium-high heat and half of the Saber® grill to low (utilizing the dual zone cooking)

Combine all the ingredients and cover the salmon with marinade

Allow salmon to marinate a minimum of 45 minutes and a maximum of three hours

Remove salmon from marinade; reserve marinade

Put marinade in a saucepan and bring to a boil to use as a sauce

Pre-toast both sides of a thin wood plank on your Saber® grill

Place salmon on plank and place it on the grill on the low setting zone

Close the lid and allow salmon to cook 16-18 minutes (minimum internal temperature of 145° F)

Utilize reduced marinade as a sauce and serve over rice
Notes
Tips:
Ensure the cedar plank is fully soaked to prevent it from catching fire on the grill.

If you don't have a grill, you can also bake the cedar planked salmon in the oven at 375°F (190°C) for about 20-25 minutes.
Nutrition:
Calories: 280 kcal per serving

Protein: 30g

Carbohydrates: 5g

Fat: 16g

Omega-3 Fatty Acids: 1.5g

Note: Nutritional values are approximate and may vary based on serving sizes and specific ingredients used.
FAQs on Marinated Cedar Planked Salmon Recipe
How do I know when the salmon is cooked through?
The salmon is done when it flakes easily with a fork and the internal temperature reaches 145°F (63°C).
Can I reuse the cedar plank?
Cedar planks can be reused for a couple of times if they're still in good condition. Just make sure to clean and dry them between uses.
What can I serve as side dishes with this meal?
Consider pairing it with grilled vegetables, quinoa salad, or a light citrus coleslaw for a well-balanced meal.
Can I marinate the salmon for longer than an hour?
While an hour is sufficient for the flavors to infuse, you can marinate the salmon for up to 4 hours for a more intense flavor.
Do I need to remove the skin before grilling?
No, grilling salmon with the skin on helps keep the fillets moist and protects them from direct heat.
What type of wood is best for cedar planks?
Western red cedar is a popular choice for cedar planks, as it imparts a delicate smokiness to the dish.
Can I use other marinades for cedar planked salmon?
Absolutely! Experiment with different marinades like teriyaki, lemon herb, or maple glaze to customize the flavors.