Grilled Beef Tenderloin with Leeks – Recipe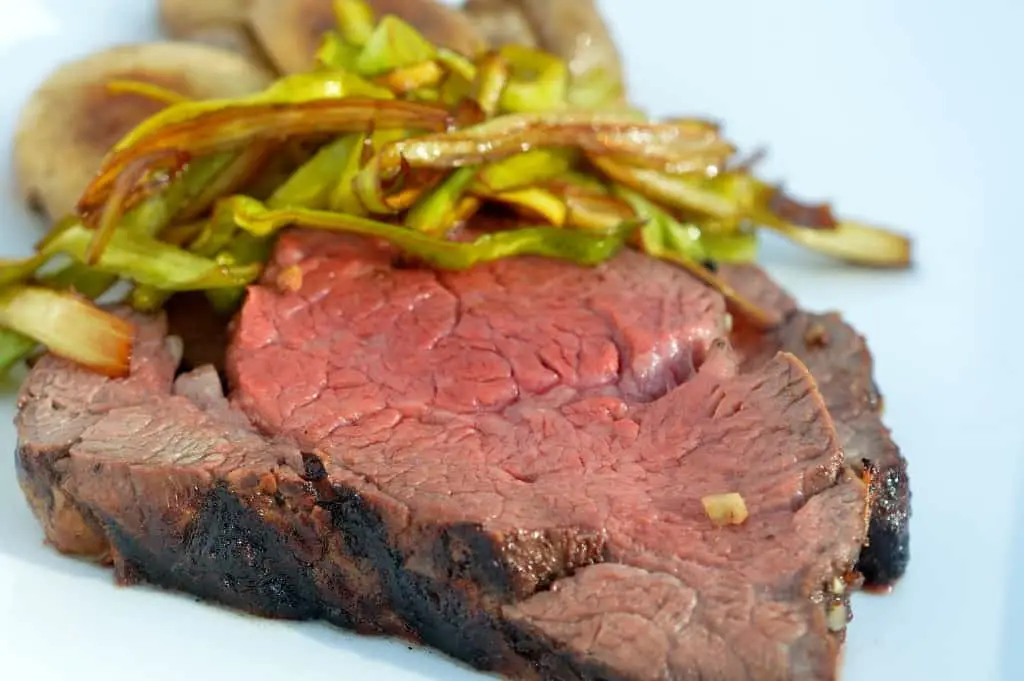 My family loves beef tenderloin, and I think my son would eat his body weight in it if he could. I make a whole beef tenderloin every Christmas as part of our traditional surf & turf menu. When I first started to do this years ago, I slaved away each year, coating the tenderloin. making reductions, stuffing the meat, etc. I wanted it to be "fancy". After all, it was Christmas Day.
By the time dinner arrived, I was knee deep in pots and pans and exhausted—not how I wanted to spend my holiday. Plus, you know what? I'm not that big of a fan of stuffing a piece of meat as delicious as a whole beef tenderloin. It alters the way the meat cooks.
I eventually came to realize that, when it comes to beef tenderloin, all you really need is a good piece of meat and a simple preparation. The meat itself and its natural juices will always shine!
Our favorite way to enjoy beef tenderloin is grilled. I simply infuse good quality olive or grapeseed oil with lots of fresh garlic, salt, and pepper. Then slather the seasoned meat with it. That…is it! The grill does the rest. 
My son always volunteers to prepare the meat. That kid loves a good steak more than anyone I know, which must be why he always appears when it's near. I've taught him how to cook a steak, however, cooking a whole fillet is a different animal.
Somehow, when it comes to meat, I just have an instinct as to when it's done. My husband says it's freaky. So I've tried to pass that on to my just-turned-14 year old son, showing him how the touch test works for beef as well as relying on smell, time, and temperature. He's really getting the hang of it. Grilled Beef Tenderloin
I look for a deliciously charred outside and a nice medium cook on the inside. To dress it up a bit for the holidays, I do a riff on Frizzled Leeks. Frizzled Leeks are thin slices of leek that you fry until crunchy and brown. I, however, want vibrant green, so I wilt some and crisp some. Once they are well seasoned, they are irresistible and make your house smell delicious! Try not to eat them all as they come out of the pan—trust me!
What's the Best Way To Clean Leeks?
When it comes to cleaning leeks, a little effort goes a long way toward bringing out their natural flavors. Here's a quick, step-by-step process to ensure your leeks are fresh and grit-free:
Prep the Leeks: Begin by trimming off the dark green tops and the root ends of the leeks. You'll want to focus on the tender white and light green parts.
Slice and Soak: Cut the leeks into thin rings or half-moons, depending on your recipe's requirements. Fill a large bowl with cold water and gently place the leek slices in. Swirl them around to loosen any dirt or sand.
Settling the Grit: Allow the leeks to rest in the water for a few minutes. The dirt will naturally sink to the bottom of the bowl as you work on other tasks. This step helps ensure you're not left with a gritty end product.
Lifting Them Out: To avoid stirring up the sediment, carefully lift the leeks out of the water rather than pouring them out. This method helps prevent recontamination and keeps your leeks clean and pristine.
What Can I Serve as a Side Dish With This Meal?
As you savor the succulent Grilled Beef Tenderloin with Leeks, don't miss the chance to elevate your dining experience with well-chosen side dishes. These accompaniments are not just supporting acts; they're the harmonious partners that complete your culinary symphony:
Roasted Potatoes: Crispy on the outside and irresistibly fluffy on the inside, roasted potatoes provide a satisfying contrast to the tender beef. Sprinkle them with herbs like rosemary and thyme, enhancing their earthy flavors and lending a delightful aroma to your plate.
Fresh Garden Salad: A medley of crisp lettuce, juicy tomatoes, cucumbers, and a tangy vinaigrette can brighten up your meal. The vibrant colors and refreshing crunch of the salad balance the richness of the beef and leeks, creating a dynamic flavor profile.
Buttery Asparagus: Delicate, tender asparagus spears sautéed in a touch of butter bring a touch of elegance to the plate. Their mild yet distinct flavor complements the grilled beef and leeks, offering a sublime contrast in taste and texture.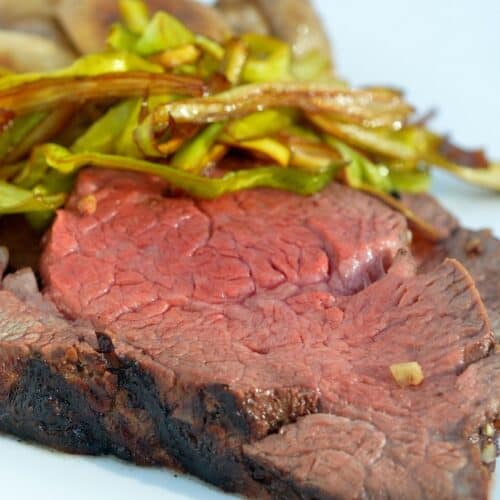 Grilled Beef Tenderloin with Leeks – Recipe
Embark on a gastronomic journey with our Grilled Beef Tenderloin with Leeks recipe. The smoky flavors of grilling elevate the succulence of premium beef tenderloin and the subtly sweet flavor of leeks in this culinary masterpiece. With a perfect balance of textures and a symphony of tastes, this dish promises to be a captivating centerpiece for any occasion.
Ingredients  
3-5

pound

beef tenderloin

Kosher salt and pepper

1/2

cup

olive or grapeseed oil

6

or more cloves of garlic

minced

For Frizzled leeks

Oil for frying

1-2

leeks

Kosher salt and pepper
Instructions 
Pat the meat dry and liberally season with salt and pepper. Allow it to sit for 15 minutes.

Combine oil, garlic, and a pinch of Kosher salt. Stir it around and allow it to sit for at least 15 minutes for the garlic to infuse the olive oil.

Coat the beef with the oil. Be sure to get all of that garlic goodness onto the meat and into its crevices.

Allow the meat to sit at room temperature for 20-25 minutes.

Preheat your grill. Place meat on grill and cook on high until a nice crust forms and the meat easily releases from the grates. Flip it over. Repeat.

After both sides of the meat have a nice crust, move your meat to the top rack or over to one side via indirect heat and allow the grill to act like an oven to finish the meat to the temperature you desire.

Allow the meat to rest for 10 minutes before cutting (remember, it will continue to cook as it rests).

While the meat is resting, slice your leeks into thin strips about 6 inches long. Fill a skillet with 2 inch or deeper sides with about 1 inch of oil. Heat the oil.

Test oil's heat by placing a leek into the oil, if it sizzles loudly, it's ready. It will splatter, so stand back.

Carefully, in batches, fry your leeks until some are vibrant green and some begin to crisp and brown. If you want them all brown and crispy, go for it.

As soon as you remove each batch onto paper towels with a slotted spatula, season them well with salt & pepper.

Scatter them atop the whole fillet or over-top individual slices, and enjoy!
Notes
Nutrition
:
Calories: 320 kcal per serving

Protein: 28g

Carbohydrates: 10g

Fat: 18g

Fiber: 2g

Nutritional values are approximate and may vary based on serving sizes and specific ingredients used.
Tips:
For an extra layer of flavor, marinate the beef medallions in your favorite herb-infused marinade before grilling.

If you prefer a milder onion flavor, substitute leeks with spring onions or sweet onions.

Feel free to drizzle a balsamic reduction over the dish to add a touch of tanginess.
FAQs on Grilled Beef Tenderloin with Leeks – Recipe
Can I use a different cut of beef for this recipe?
While tenderloin is ideal for its tenderness, you can also use ribeye or sirloin for this dish.
How do I know when the beef is cooked to my liking?
Use a meat thermometer to check the internal temperature. 135°F (57°C) is medium-rare, while 145°F (63°C) is medium.
Can I grill the leeks as well?
Absolutely! Place the leeks in a grill basket or wrap them in aluminum foil, and grill until they are tender and slightly charred.
What's the purpose of resting the meat?
Resting allows the juices to redistribute within the meat, resulting in a juicier and more flavorful bite.
Can I substitute leeks with regular onions?
Yes, you can substitute sweet onions or shallots for a similar flavor profile.
Is marinating necessary for the beef?
Marinating is optional, but it can enhance the flavor and tenderness of the meat.
Can I use a stovetop grill pan instead of an outdoor grill?
Absolutely, a grill pan works well too. Preheat it over medium-high heat and follow the same grilling instructions.
Can I use dried thyme instead of fresh?
Yes, but use a smaller amount of dried thyme, as its flavor is more concentrated. Start with about half the amount and adjust to taste.

I tried this Beef Tenderloin with Leeks – Recipe last night and it was a hit with my entire family. The step-by-step instructions made it easy to follow, even for a novice cook like me.