Stuffed Acorn Squash with Apples and Raisins – Recipe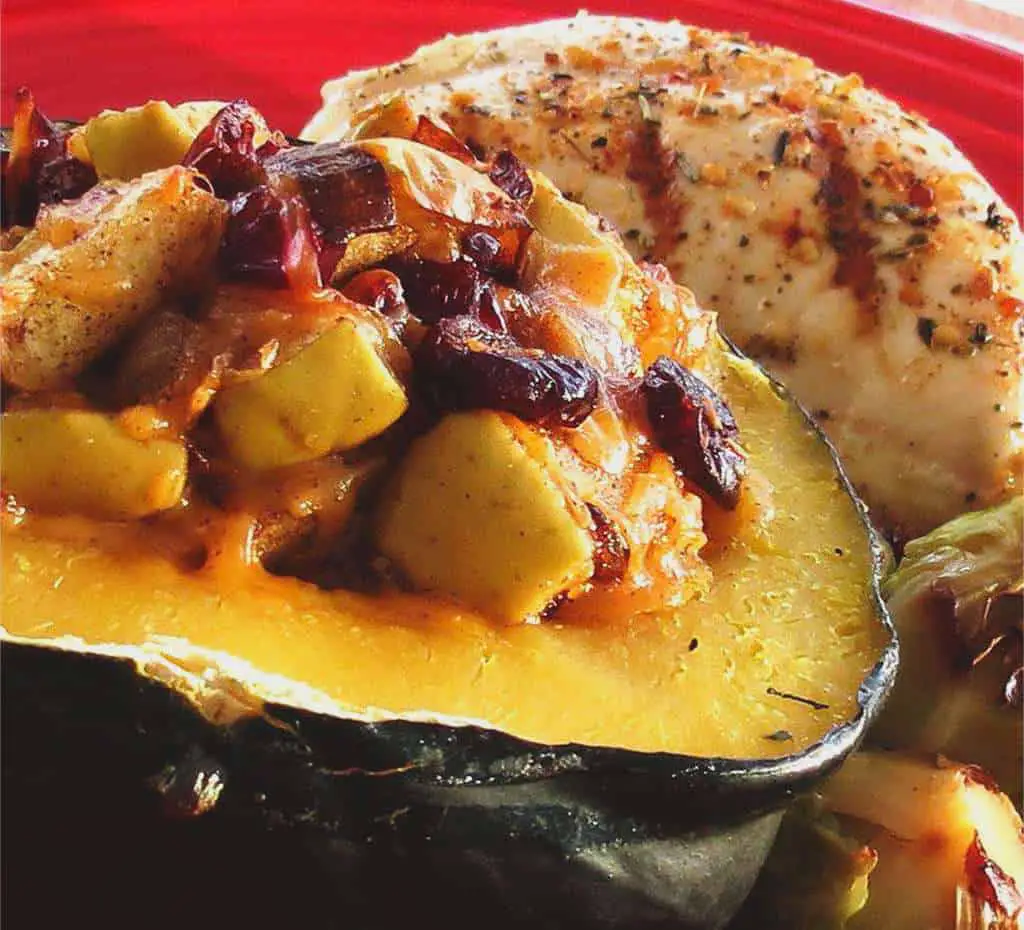 As the crisp air of autumn descends, there's nothing quite like indulging in a warm and hearty dish that captures the essence of the season. Enter the Stuffed Acorn Squash with Apples and Raisins – a culinary masterpiece that marries the earthiness of acorn squash with the sweet tang of apples and the delightful chewiness of raisins. This recipe transforms simple ingredients into a symphony of flavors, making it an ideal addition to your fall recipe repertoire.
A Fusion of Autumnal Elements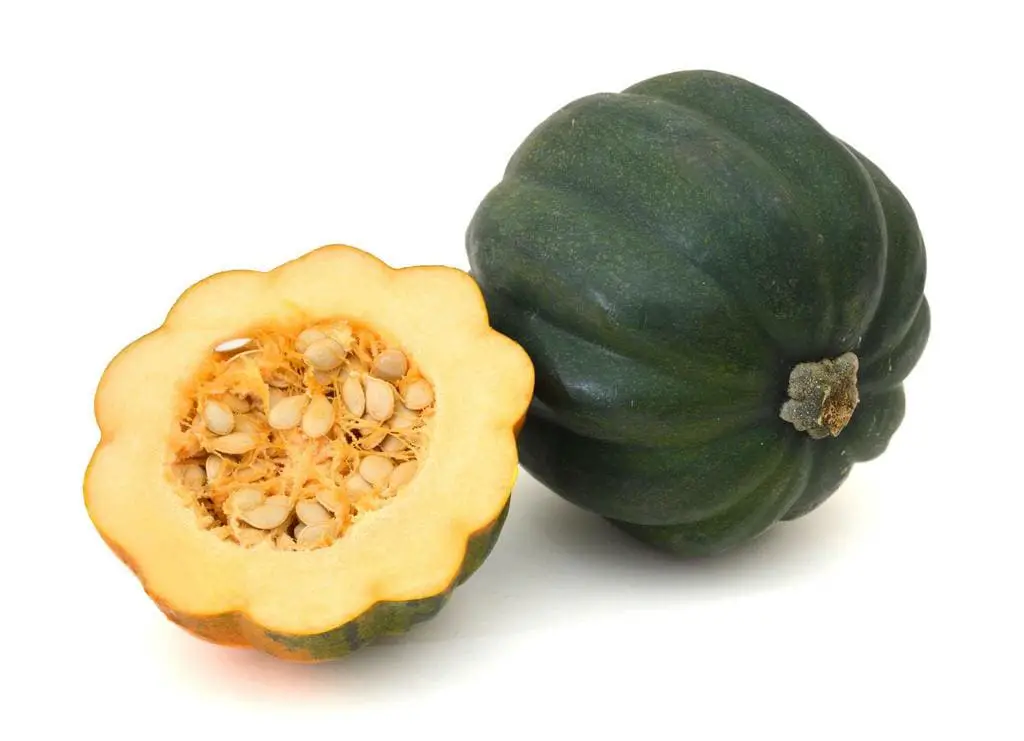 The Stuffed Acorn Squash with Apples and Raisins brings together the finest elements of fall's bounty. Picture this: tender roasted acorn squash, its natural sweetness enhanced by a drizzle of olive oil, seasoned to perfection with a pinch of salt and pepper. But the true magic happens when this canvas is filled with a stuffing that dances on your taste buds.
The Stuffing: A Dance of Sweet and Savory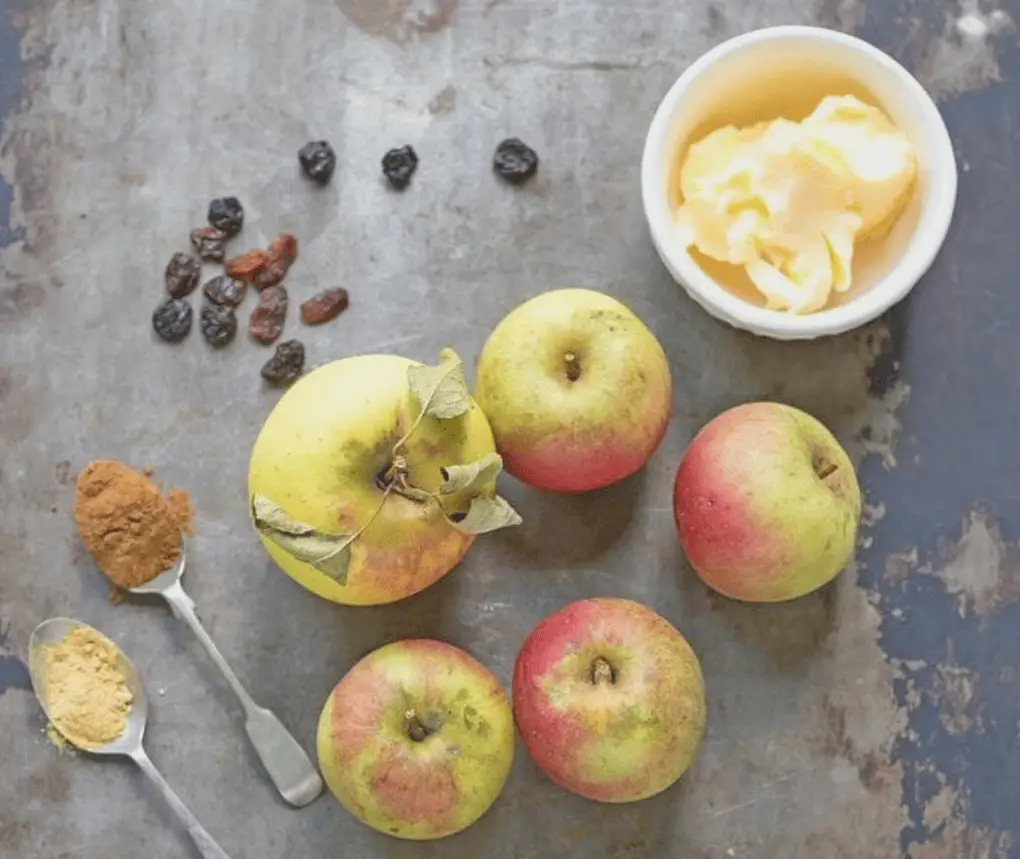 In a sauté pan, a medley of finely chopped onions and minced garlic takes center stage. As they sizzle and release their aromatic notes, diced apples join the performance, their flavors intertwining with the sweetness of raisins. A sprinkle of dried thyme and sage adds depth, infusing the stuffing with a fragrant warmth that epitomizes the season. The combination of textures – the tender apples, the chewy raisins – is a delightful contrast that keeps you coming back for more.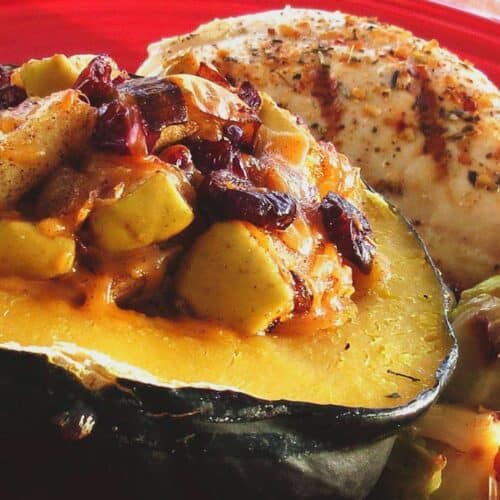 Stuffed Acorn Squash with Apples and Raisins – Recipe
Indulge in the symphony of flavors with our captivating recipe for Stuffed Acorn Squash with Apples and Raisins. The tender embrace of acorn squash, harmonizing with the sweetness of apples and the playful intrigue of raisins, creates an exquisite dish that effortlessly marries comfort and elegance. This recipe, a bewitching blend of nature's finest, promises to adorn your table with a touch of autumnal enchantment.
Ingredients  
2

medium acorn squashes

2

tablespoons

olive oil

1

cup

diced apple

such as Granny Smith

1/2

cup

diced onion

1/2

cup

celery

finely chopped

1/2

cup

raisins

1/2

teaspoon

ground cinnamon

1/4

teaspoon

ground nutmeg

1/4

teaspoon

ground sage

Salt and pepper

to taste

1

cup

cooked quinoa

1/2

cup

chopped walnuts

1/4

cup

fresh parsley

chopped

1/4

cup

grated Parmesan cheese

optional

Honey

for drizzling (optional)
Instructions 
Preheat your oven to 375°F (190°C).

Cut the acorn squashes in half lengthwise and scoop out the seeds.

Brush the flesh of the squashes with olive oil and sprinkle with a pinch of salt. Place them on a baking sheet, flesh-side down, and bake for 30-35 minutes, or until the flesh is tender when pierced with a fork.

While the squashes are baking, prepare the stuffing. In a large skillet, heat olive oil over medium heat.

Add the diced apple, onion, and celery. Sauté until the vegetables are softened and the apples are slightly caramelized, about 5-7 minutes.

Stir in the raisins, ground cinnamon, ground nutmeg, ground sage, salt, and pepper. Cook for an additional 2 minutes, allowing the flavors to meld.

Remove the skillet from heat and fold in the cooked quinoa, chopped walnuts, and fresh parsley. Mix well to combine.

Once the squashes are tender, carefully flip them over on the baking sheet, flesh-side up.

Divide the stuffing mixture among the squash halves, gently pressing it down.

If using, sprinkle grated Parmesan cheese over the stuffed squashes.

Return the baking sheet to the oven and bake for an additional 20-25 minutes, until the stuffing is heated through and the cheese is melted and golden.

Remove from the oven and let them cool slightly before serving.

Drizzle with honey for a delightful touch of sweetness, if desired.
Notes
Tips:
Customize the recipe by adding cranberries, chopped pecans, or cooked sausage to the stuffing.

For a vegan version, omit the Parmesan cheese and drizzle with maple syrup instead of honey.
FAQs on Stuffed Acorn Squash with Apples and Raisins – Recipe
Can I use a different type of squash?
While acorn squash works best for this recipe due to its size and flavor, you can experiment with other small squash varieties like delicata or sweet dumpling.
Is the Parmesan cheese necessary?
No, the cheese is optional. It adds a savory note, but the dish is still delicious without it.
Can I make the stuffing in advance?
Absolutely! Prepare the stuffing a day ahead, store it in the refrigerator, and then fill the squash before baking.
Is the quinoa measurement for cooked or uncooked quinoa?
The quinoa measurement is for cooked quinoa. Make sure to cook it according to package instructions before using it in the recipe.
Can I use brown rice instead of quinoa?
Certainly! Brown rice can be a suitable substitute for quinoa in this recipe, offering a slightly different texture.

Those are delicious and juicy stuffed for the acorn squash.


The balance of the flavor is really refreshing and delicous. Love it.