Mini Vegetarian Quiches Stuffed with Spinach, Cherry Tomatoes and Cheese – Recipe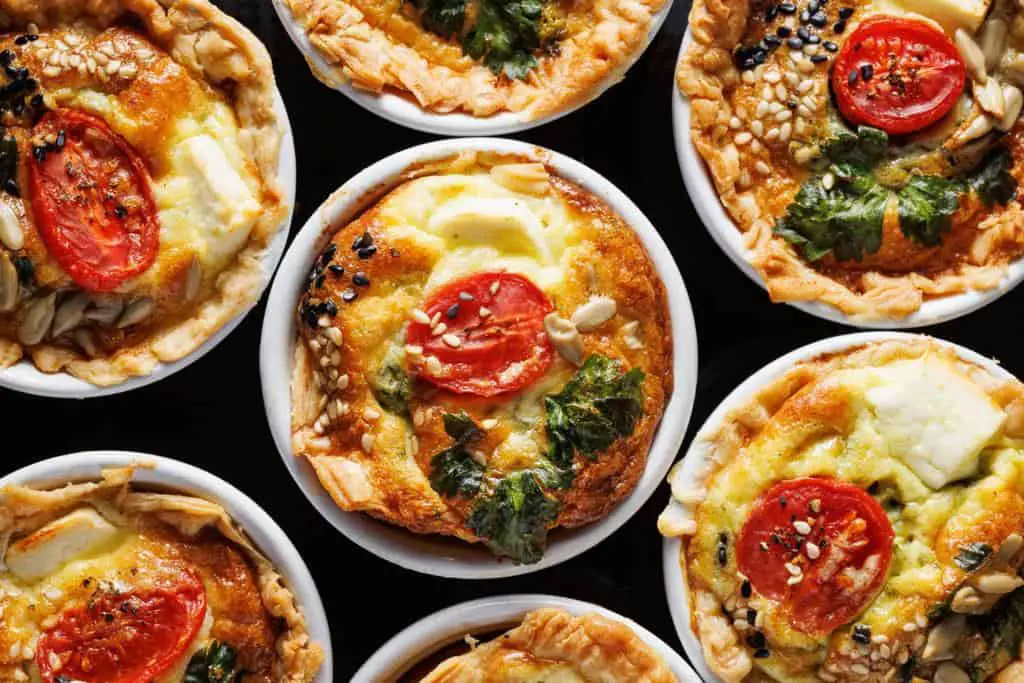 Step into a world where flavors dance and delights unfold – welcome to the realm of Mini Vegetarian Quiches. Imagine buttery pastry crusts cradling a symphony of vibrant spinach, tangy cherry tomatoes, and a blanket of comforting cheese.
These dainty delights pack a punch in every bite, making them ideal for breakfast, brunch, or a satisfying snack. With a fusion flair that seamlessly blends ingredients, these quiches are a culinary work of art, beautifully presented in charming casserole dishes.
A Fusion of Culinary Artistry
Embrace the versatility of these quiches that know no boundaries – they seamlessly straddle the realms of appetizer and brunch. Their fusion cuisine background paints a canvas of flavors that cater to diverse palates. Crispy on the outside, with a heart that's warm and inviting, they mirror the essence of an inviting morning and the relaxed charm of a midday gathering.
Ingredients and Crafting Magic
This delightful journey begins with a store-bought pie crust, a convenient foundation that's as reliable as it is delicious. Freshly chopped spinach and halved cherry tomatoes bring vibrancy to the party, nestled amidst layers of shredded cheese.
A gentle blend of eggs, milk, and a hint of nutmeg forms the enchanting binding that brings this culinary masterpiece to life. A mere 45 minutes later – a short interlude in the realm of cooking – these quiches emerge from the oven, golden and beautifully set, ready to grace your table.
As you savor these bite-sized treasures, consider customizing the ingredients to your taste. Experiment with herbs, cheeses, and even creative vegetable variations – the possibilities are as endless as your imagination. So, gather around, share stories, and let the charm of these mini quiches turn any moment into an occasion.
Other Vegetables You Can Use and Experiment
Let your culinary creativity take the lead as you explore a world of vegetable possibilities to infuse even more flavor into your mini quiches. While the recipe embraces the delightful combination of spinach, cherry tomatoes, and cheddar cheese, don't hesitate to venture beyond these horizons. Here are a few tantalizing options to consider:
Mushrooms: Unveil a hearty dimension with earthy mushrooms. Whether you opt for cremini, shiitake, or portobello, their rich, savory notes can lend depth to each bite.
Bell Peppers: Add a splash of color and a touch of crunch with vibrant bell peppers. Their sweetness contrasts beautifully with the creaminess of the quiche's filling.
Caramelized Onions: Elevate the quiche's elegance with the sweet allure of caramelized onions. Their tender sweetness can harmonize beautifully with the other flavors, adding a subtle layer of sophistication.
Imagine the possibilities as you blend these veggies into your quiche-making escapade. By marrying your personal favorites, you'll transform the recipe into a reflection of your unique palate. Each bite will unveil a harmonious interplay of textures and tastes, celebrating the art of culinary exploration.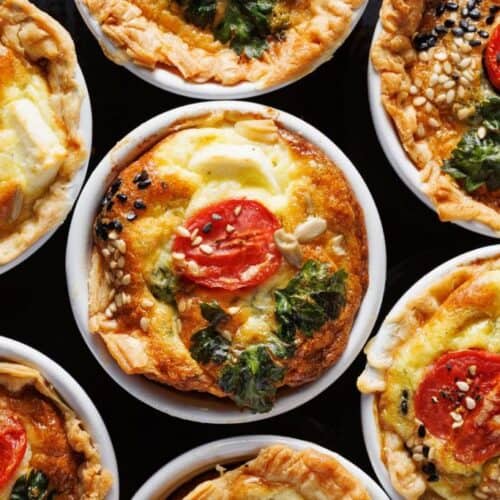 Mini Vegetarian Quiches Stuffed with Spinach, Cherry Tomatoes and Cheese in A Casserole Dishes
Indulge in the delightful world of flavors with our Mini Vegetarian Quiches, a fusion of wholesome ingredients nestled within buttery pastry crusts. These bite-sized wonders, brimming with spinach, cherry tomatoes, and cheese, promise a burst of taste in every mouthful. Perfect for breakfast, brunch, or a savory snack, these quiches bring together the richness of cheese and the freshness of veggies in a charming casserole dish presentation.
Ingredients  
1

store-bought pie crust

or homemade if preferred

1

cup

fresh spinach

chopped

1/2

cup

cherry tomatoes

halved

1/2

cup

shredded cheese

cheddar, mozzarella, or your favorite

4

large eggs

1/2

cup

milk

Salt and pepper to taste

1/4

teaspoon

nutmeg

optional

Cooking spray or melted butter for greasing
Instructions 
Preheat your oven to 375°F (190°C).

Roll out the pie crust and cut circles slightly larger than your muffin tin or casserole dish cavities. Press them gently into the greased compartments.

Sprinkle a little cheese at the bottom of each crust.

Distribute the chopped spinach and halved cherry tomatoes evenly over the cheese.

In a bowl, whisk together the eggs, milk, salt, pepper, and nutmeg if using.

Carefully pour the egg mixture over the veggies, filling each crust almost to the top.

Top with a sprinkle of remaining cheese for a golden finish.

Bake in the preheated oven for about 20-25 minutes, or until the quiches are set and the tops are lightly browned.

Allow them to cool slightly before gently removing from the casserole dish or muffin tin.

Serve warm, garnished with a touch of fresh herbs if desired.
Notes
Tips:
Feel free to customize the veggies and cheese to your liking.

If using frozen spinach, make sure to squeeze out excess moisture before using.

A mini muffin tin or silicone molds can also be used for bite-sized versions.
Nutrition:
Calories per Quiche: 120

Protein: 6g

Carbohydrates: 8g

Fat: 7g

Fiber: 1g
FAQs on Mini Vegetarian Quiches Stuffed with Spinach, Cherry Tomatoes and Cheese – Recipe
Can I use frozen spinach?
Yes, but make sure to thaw and squeeze out excess moisture before use.
Can I make these ahead of time?
Absolutely! Mini quiches can be prepared ahead and reheated in the oven or microwave.
What other vegetables can I use?
You can experiment with mushrooms, bell peppers, or caramelized onions for variety.
Can I use dairy-free alternatives?
Of course, you can use non-dairy milk and cheese substitutes to make these quiches vegan-friendly.
How do I avoid a soggy crust?
Pre-baking the crust slightly before adding the filling helps prevent a soggy bottom.
Can I freeze leftover quiches?
Yes, you can freeze cooked quiches. Reheat them in the oven for best results.
What herbs work well as garnish?
Can I use a different type of pastry?
Absolutely, puff pastry or filo dough can also be used for a different texture.

As someone who is veggie-lifestyle and health-conscious person, I appreciate that this recipe offers a healthier alternative without sacrificing taste. It's a guilt-free indulgence that satisfies both my cravings and my dietary goals.