Beef Souvlaki Pita Wrap with Feta Cheese and Tzatziki Sauce Recipe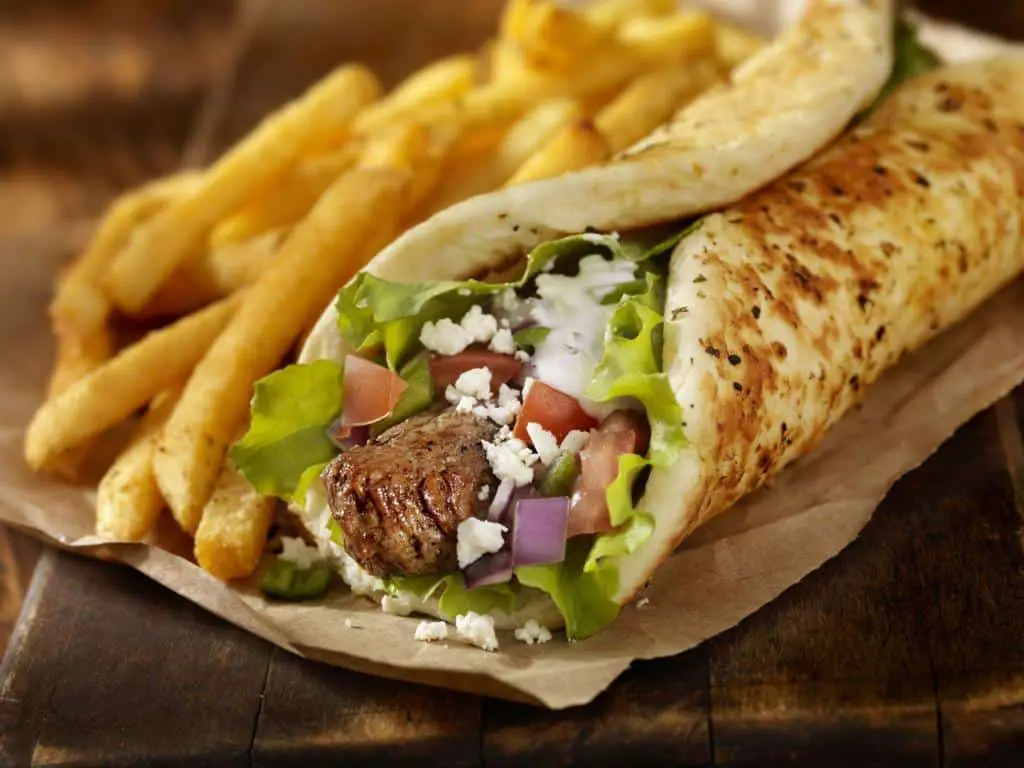 Embark on a culinary adventure that transports you straight to the sun-soaked shores of Greece. Imagine indulging in a mouthwatering Beef Souvlaki Pita Wrap that brings together tender marinated beef, a vibrant medley of fresh veggies, crumbled feta cheese, and the creamy coolness of tzatziki sauce.
All neatly wrapped in warm pita bread, with a side of crispy golden French fries. This recipe captures the essence of Greek cuisine, inviting you to experience the irresistible blend of flavors that has captivated food lovers for generations.
Why You'll Love Beef Souvlaki Pita Wrap with Feta Cheese and Tzatziki Sauce
The Beef Souvlaki Pita Wrap isn't just a meal; it's a sensory journey. The marinated beef, infused with zesty lemon and aromatic oregano, is grilled to perfection, releasing irresistible smoky aromas. As you take that first bite, the tender beef dances harmoniously with the crunchy lettuce, juicy tomatoes, and tangy red onions.
The crumbled feta adds a delightful creaminess, while the tzatziki sauce lends a refreshing coolness that complements the savory notes of the meat. And let's not forget the crispy French fries that provide a satisfying contrast in texture. It's a combination that speaks to both comfort and exotic adventure.
Ingredients and Directions Overview
Marinate: Begin by marinating the beef sirloin in a tantalizing blend of olive oil, lemon juice, garlic, and oregano. Let the flavors meld for 1-2 hours in the refrigerator.
Grill: Thread the marinated beef onto soaked wooden skewers and grill them until they're cooked to your desired level of juiciness.
Warm and Assemble: Warm the pita bread on the grill and start building your wrap. Layer lettuce, tomatoes, red onions, grilled beef, and crumbled feta. Drizzle generously with creamy tzatziki sauce.
Wrap and Delight: Carefully roll up the pita, tucking in the sides for a tidy bundle of goodness. Each bite delivers a symphony of textures and flavors that's nothing short of a culinary masterpiece.
Whether you're seeking a taste of Greece or simply a delicious and satisfying meal, the Beef Souvlaki Pita Wrap is a delightful choice that satisfies both your cravings and your sense of adventure. So, fire up the grill, gather your ingredients, and get ready to embark on a journey of flavors that'll leave you craving for more.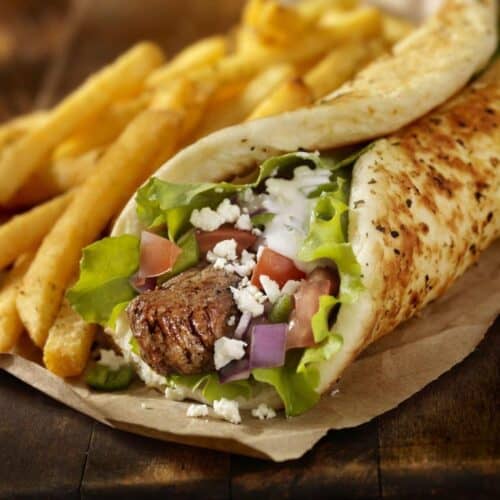 Beef Souvlaki Pita Wrap with Lettuce, Tomatoes, Red Onions, Feta Cheese, Tzatziki Sauce and a Side of french Fries
Delve into the heart of Greek cuisine with our Beef Souvlaki Pita Wrap recipe. A medley of vibrant lettuce, tomatoes, red onions, and tangy feta cheese complement the succulent marinated beef souvlaki tucked inside warm pita bread in this delightful combination. Drizzled with creamy tzatziki sauce and accompanied by a side of golden french fries, this meal captures the essence of Greece's flavors in every savory bite.
Ingredients  
1

pound

beef sirloin

cut into bite-sized pieces

4

pita bread rounds

2

cups

lettuce

shredded

2

medium tomatoes

sliced

1

small red onion

thinly sliced

1/2

cup

feta cheese

crumbled

1

cup

tzatziki sauce

4

cups

frozen french fries

Olive oil

for cooking

Salt and black pepper

to taste

Wooden skewers

soaked in water
Instructions 
In a bowl, combine beef sirloin, olive oil, lemon juice, garlic, oregano, salt, and black pepper. Cover and marinate in the refrigerator for 1-2 hours.

Preheat the grill or stovetop grill pan over medium-high heat.

Thread marinated beef pieces onto soaked wooden skewers. Grill for about 2-3 minutes per side, until cooked to your desired level.

Warm the pita bread on the grill for a minute on each side.

To assemble the wraps, place a pita bread on a flat surface. Layer with lettuce, tomatoes, red onions, grilled beef, crumbled feta, and a generous drizzle of tzatziki sauce.

Roll up the pita wrap, tucking in the sides as you go.

Serve the Beef Souvlaki Pita Wraps with a side of crispy french fries.
Notes
Tips:
For an extra kick of flavor, sprinkle dried oregano over the assembled wrap.

You can also use other cuts of beef, like flank steak or ribeye, for the souvlaki.

If you prefer, you can toast the pita bread on a dry skillet over medium heat for a slight char.
Nutrition:
Note: Nutritional values are approximate and may vary based on serving sizes and specific ingredients used.
Calories: 550 kcal per serving

Protein: 30g

Carbohydrates: 40g

Fat: 30g

Fiber: 4g
FAQs on Beef Souvlaki Pita Wrap with Lettuce, Tomatoes, Red Onions, Feta Cheese, Tzatziki Sauce and a Side of french Fries
Can I use chicken instead of beef for this recipe?
Absolutely, chicken souvlaki works wonderfully with the same marinade and grilling process.
What's the best way to thaw frozen french fries?
Follow the package instructions for baking or frying the fries until they're golden and crispy.
Can I make the tzatziki sauce at home?
Yes, tzatziki sauce is simple to make by combining Greek yogurt, cucumber, garlic, dill, and lemon juice.
Is there a vegetarian version of this wrap?
Certainly, replace the beef with grilled vegetables, halloumi cheese, or falafel for a delicious vegetarian option.
What's the significance of soaking the skewers in water?
Soaking wooden skewers prevents them from burning on the grill or stovetop, ensuring safe and efficient cooking.
Can I use a different type of cheese for the wrap?
While feta adds an authentic Greek touch, other cheeses like goat cheese or shredded mozzarella can also complement the flavors.