Spicy Grilled Mushrooms and Bacon Wrapped – Recipe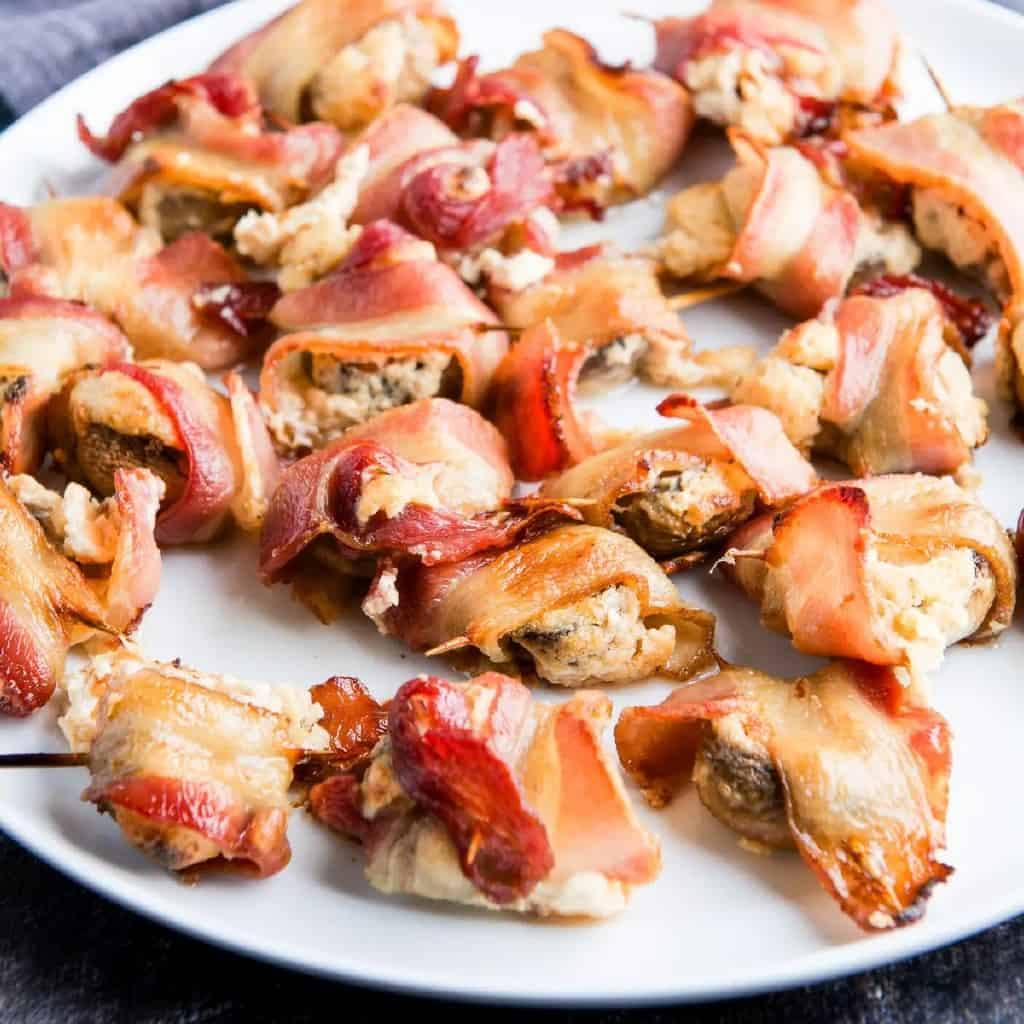 Ever find yourself grilling a beautiful piece of meat as your entrée, and while you're doing that, you run in and out of your house tending to a side dish to accompany it?
Problem solved with this gorgeous pan of mushrooms, bacon and peppers! While your entrée is doing its thing on your grill, make room for a cast-iron pan and whip up this delicious side dish which can also double as a great lunch on its own, paired with a small salad.
To make it even easier, enlist the help of your kids! Trust me when I say that your kids, no matter what their age, will surprise and delight you when it comes to cooking. They get excited by the responsibility and they really take it seriously…after all, they love to eat, right? Allowing your children to help cook teaches them a life skill, plus I'll bet the farm that they will at least taste whatever it is they helped cook! Next thing you know…you'll have them helping you all the time, they will find new foods to enjoy, and you…well YOU may soon find yourself with a little extra free time!
My 10-year-old daughter gets to work on the garlic (see how she claws" her fingers to keep them out of harm's way and pinches the chef's knife right where the steel meets the hilt to be safe?). That's my girl!
And see my son below? He's cutting chunks of bacon to use in the dish off of a slab. That's one of my favorite kitchen tips to give – Ask your butcher or your farmer's market to cut you a hunk of bacon, I usually hold my fingers up and show them the width I want (usually 3 inches). 
Whenever I want to add bacon to anything like salads, a baked potato, soups, mac & cheese…all I have to do – or have one of my kids do – is slice a chunk of the bacon off, cook it up and ta-dah, homemade bacon bits! Just wrap it tightly after each use and it lasts and lasts!
How Do I Clean Mushrooms Properly?
Ensuring your mushrooms are properly cleaned is essential to enhance their natural flavor and texture. Here's a simple yet effective method:
1. Gently Wipe:
Handle each mushroom with care. Take a damp cloth or a paper towel and gently wipe the surface of the mushrooms. This helps remove dirt and any debris that might be clinging to them. By doing this, you ensure that you don't strip away the delicate texture of the mushrooms.
2. Avoid Soaking:
One crucial thing to remember is to avoid soaking mushrooms in water. Mushrooms are like little sponges, and they can quickly absorb moisture, which might affect their taste and consistency when cooked. Instead, opt for a gentle wipe-down to keep them pristine.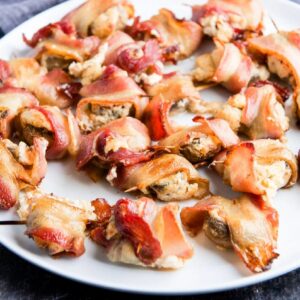 Spicy Grilled Mushrooms and Bacon Wrapped
Picture this: plump baby bella mushrooms, sizzling on the grill, their rich flavors enhanced by the smoky aroma of bacon and the gentle heat of red peppers. It's a combination that promises an appetizer experience like no other. This recipe brings together the magic of grilling, the irresistible allure of bacon, and the earthiness of mushrooms into a symphony of tastes that'll have you craving for more. The blend of ingredients dances on your taste buds, and it's perfect whether you're hosting a summer cookout or looking to add some flair to your everyday meals.
Ingredients  
20

baby bella mushrooms

halved

2

Tablespoons

butter

1/2

cup

bacon or pancetta

diced

1/2

cup

red pepper

diced

2

cloves

garlic

chopped

1/2

tsp

fresh lemon juice

1

shake or 2 of red

Cayenne pepper

Kosher salt and black pepper

to taste
Instructions 
Clean and halve mushrooms. Set aside.

Place the pan on the grill or side burner and melt 1 Tablespoon butter.

Add in bacon and peppers. Sauté 4-5 minutes, stirring occasionally.

Add in garlic and sauté for a few minutes stirring occasionally.

Add mushrooms, remaining Tablespoon butter, and lemon juice. Toss well until all ingredients are incorporated. Allow it to cook for 3-4 minutes.

Add in seasonings, toss and remove from the grill once the level of doneness you prefer your mushrooms to be is reached.
Notes
Tips:
Soaking the toothpicks prevents them from burning on the grill.

Adjust the cayenne pepper according to your spice preference. You can make it milder or spicier.

Experiment with different types of mushrooms for unique flavors and textures.

If you enjoy onion, feel free to add in shallots or chopped onion as well to the dish.
Nutrition
(per serving, based on 6 servings):
Calories: 180

Protein: 8g

Carbohydrates: 4g

Dietary Fiber: 1g

Total Fat: 15g

Saturated Fat: 5g

Sodium: 480mg
Can I make these mushrooms ahead of time?
Absolutely! You can prepare the mushrooms, stuff them, and wrap them in bacon a few hours ahead. Keep them refrigerated until grilling.
Can I use a grill pan instead of a traditional grill?
Certainly, a grill pan works well for this recipe, providing those sought-after grill marks and smoky flavors.
What can I serve with these bacon-wrapped mushrooms?
A zesty dipping sauce, like chipotle aioli or garlic ranch, complements the dish beautifully
Can I use a different type of cheese for the filling?
Absolutely, feel free to explore cheeses like cheddar, pepper jack, or even blue cheese to infuse your own twist.

I added a personal touch by incorporating some roasted garlic, and it took the dish to a whole new level.