Chanterelle Mushrooms Bruschetta Recipe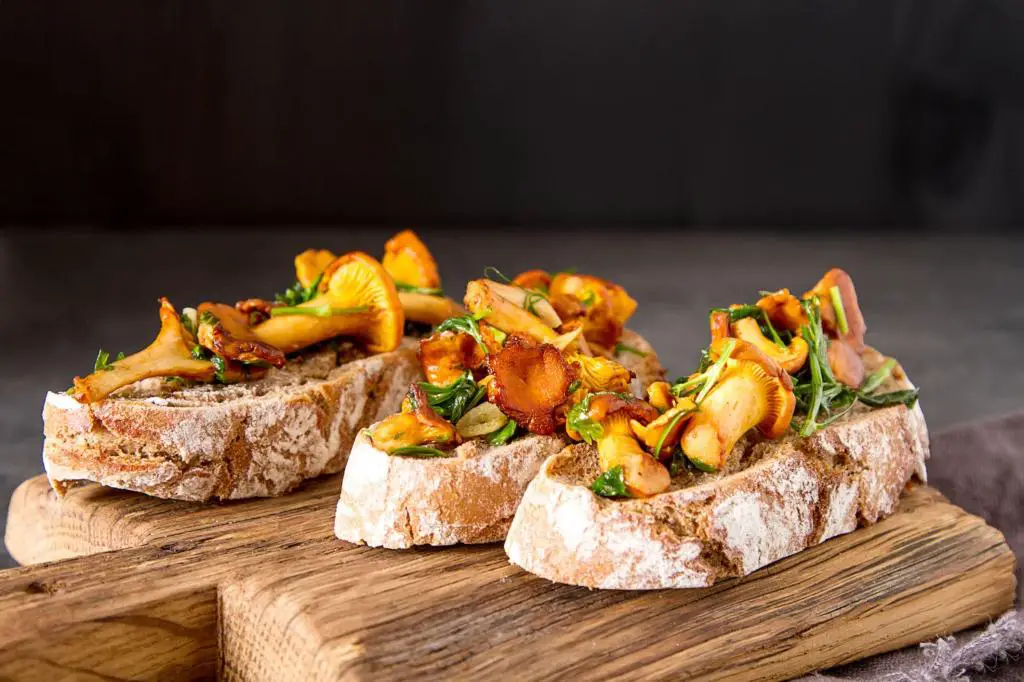 Introduction to Chanterelle Mushroom Bruschetta
Chanterelle Mushroom Bruschetta is a delightful Italian-inspired appetizer that brings together the earthy richness of chanterelle mushrooms, the aromatic allure of garlic, and the freshness of parsley on perfectly toasted slices of rustic Italian bread. This dish not only tantalizes your taste buds but also offers a glimpse into the world of foraging, as chanterelle mushrooms are often found in the wild.
It's a recipe that encapsulates the essence of Italian cuisine's simplicity and robust flavors. Whether you're a seasoned cook or a beginner, this recipe is a must-try for its combination of elegance and ease.
Why I Love Chanterelle Mushroom Bruschetta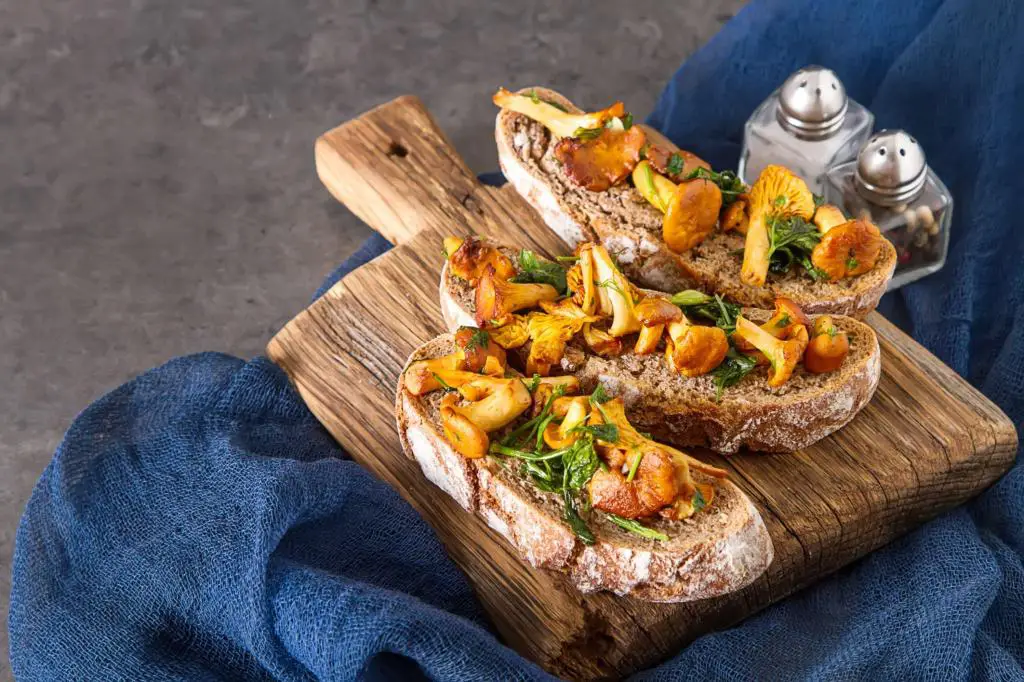 I adore Chanterelle Mushroom Bruschetta for several reasons. First, it's incredibly flavorful with a harmonious blend of ingredients. The nutty, slightly fruity taste of chanterelle mushrooms, when sautéed with garlic and fresh parsley, creates a symphony of flavors. 
Second, it's a versatile dish that works well as an appetizer for a special dinner or as a delightful snack for casual gatherings. Its rustic charm is bound to impress guests. Lastly, this recipe celebrates the joy of simplicity. It doesn't require complex techniques or rare ingredients, yet it delivers a gourmet experience. I believe you'll want to try it for all these reasons and more.
Key Ingredients and Their Purpose
Chanterelle Mushrooms: These golden-hued mushrooms are the star of the dish, imparting a unique flavor and meaty texture.
Garlic: The minced garlic adds a delightful aroma and a subtle zing to the sautéed mushrooms.
Olive Oil: Used for sautéing the garlic and mushrooms, the Bruschetta enhances the overall richness of the dish.
Fresh Parsley: Chopped parsley and its stems bring a burst of freshness and a touch of vibrant color to the bruschetta.
Salt and Pepper: These seasonings elevate the flavors of all the ingredients and provide balance.
Rustic Italian Bread: The base of the bruschetta, the bread, becomes the canvas for all the flavors to shine once toasted.
Parmesan Cheese: Grated Parmesan cheese adds a salty, umami kick and a creamy texture to the finished dish.
Balsamic Glaze (optional): If used, the balsamic glaze drizzle provides a sweet and tangy contrast to the savory mushrooms.
Instructions and Summary
To make Chanterelle Mushroom Bruschetta, start by preheating your oven or grill. In a skillet, sauté minced garlic in olive oil until fragrant. Add sliced chanterelle mushrooms and cook until golden brown, seasoning with salt and pepper. 
While the mushrooms cook, toast slices of rustic Italian bread until they're crispy. Once the mushrooms are ready, stir in chopped parsley. Arrange the toasted bread on a platter, spoon the sautéed mushrooms over them, and sprinkle with grated Parmesan cheese. 
Optionally, drizzle balsamic glaze for extra flavor. Serve immediately and savor the delightful combination of textures and tastes in this wonderful appetizer. Enjoy!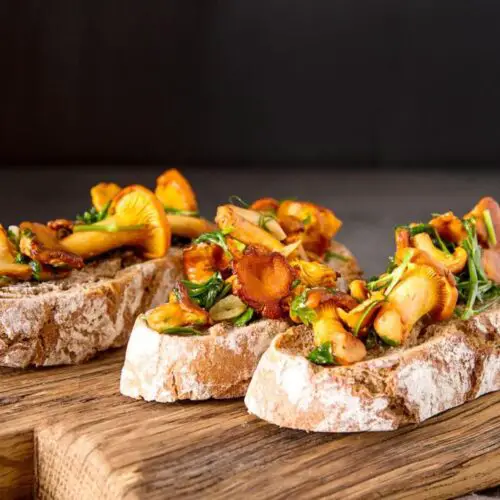 Chanterelle Mushroom Bruschetta Recipe
Indulge in the exquisite flavors of Italian cuisine with this Chanterelle Mushroom Bruschetta recipe. In just 30 minutes, you'll craft a captivating appetizer that marries the earthy richness of fresh chanterelle mushrooms with the simplicity of rustic Italian bread. Sautéed to golden perfection with garlic and parsley, these mushrooms rest atop crispy grilled bread slices, adorned with Parmesan cheese and a drizzle of optional balsamic glaze. Each bite is a symphony of textures and tastes, making it an ideal starter for a special gathering or a delightful treat for any day. Elevate your culinary prowess with this harmonious dish.
Equipment
Skillet

Mixing bowl

Knife

Cutting board

Oven or grill
Ingredients  
8

slices

of rustic Italian bread

2

cups

fresh chanterelle mushrooms

cleaned and sliced

2

cloves

garlic

minced

2

tablespoons

olive oil

1/4

cup

fresh parsley

chopped

Salt and pepper to taste

1/4

cup

grated Parmesan cheese

Balsamic glaze for drizzling

optional
Instructions 
Preheat your oven or grill to medium-high heat.

In a skillet over medium heat, add the olive oil. Once hot, add the minced garlic and sauté for about 30 seconds, or until fragrant.

Add the sliced chanterelle mushrooms to the skillet. Sauté them for 5-7 minutes until they turn golden brown and become tender. Season with salt and pepper to taste.

While the mushrooms are cooking, place the slices of rustic Italian bread on the grill or in the oven. Toast them until they're lightly crispy and have grill marks, about 2-3 minutes per side.

Once the mushrooms are cooked, remove them from the heat and stir in the chopped fresh parsley.

Place the toasted bread slices on a serving platter or individual plates.

Spoon the sautéed chanterelle mushrooms over the toasted bread slices, distributing them evenly.

Sprinkle grated Parmesan cheese on top of the mushrooms.

Optionally, drizzle a bit of balsamic glaze over each bruschetta for an extra burst of flavor.

Serve the Chanterelle Mushrooms Bruschetta immediately, while it's warm and the bread is still crispy.
Notes
Tips:
If you can't find fresh chanterelle mushrooms, you can use dried ones. Just rehydrate them in hot water for 20 minutes before cooking.

Customize your bruschetta by adding a touch of fresh lemon juice or a sprinkle of red pepper flakes for some heat.

Use a good-quality, crusty Italian bread for the best results.
Nutrition (per serving):
Calories: 250

Fat: 10g

Carbohydrates: 30g

Protein: 9g

Fiber: 3g
FAQs on Chanterelle Mushroom Bruschetta Recipe
What do chanterelle mushrooms taste like?
Chanterelles have a mild, nutty flavor with a hint of fruity aroma, making them a delicacy in the mushroom world.
Where can I find chanterelle mushrooms?
You can find fresh chanterelle mushrooms in specialty grocery stores or at farmers' markets during the mushroom season. Dried chanterelles are available year-round in many stores.
How should I clean chanterelle mushrooms?
Gently brush off any dirt or debris with a mushroom brush or a damp paper towel. Avoid soaking them in water as they can absorb too much moisture.
What other dishes can I make with chanterelle mushrooms?
Besides bruschetta, chanterelles are great in pasta, risotto, omelets, and sauces.
Can I freeze sautéed chanterelle mushrooms for later use?
Yes, you can freeze them in an airtight container for up to 3 months. Thaw and reheat before using in recipes.