Grilled Spinach and Artichoke Flatbread With Chicken and Sriracha Recipe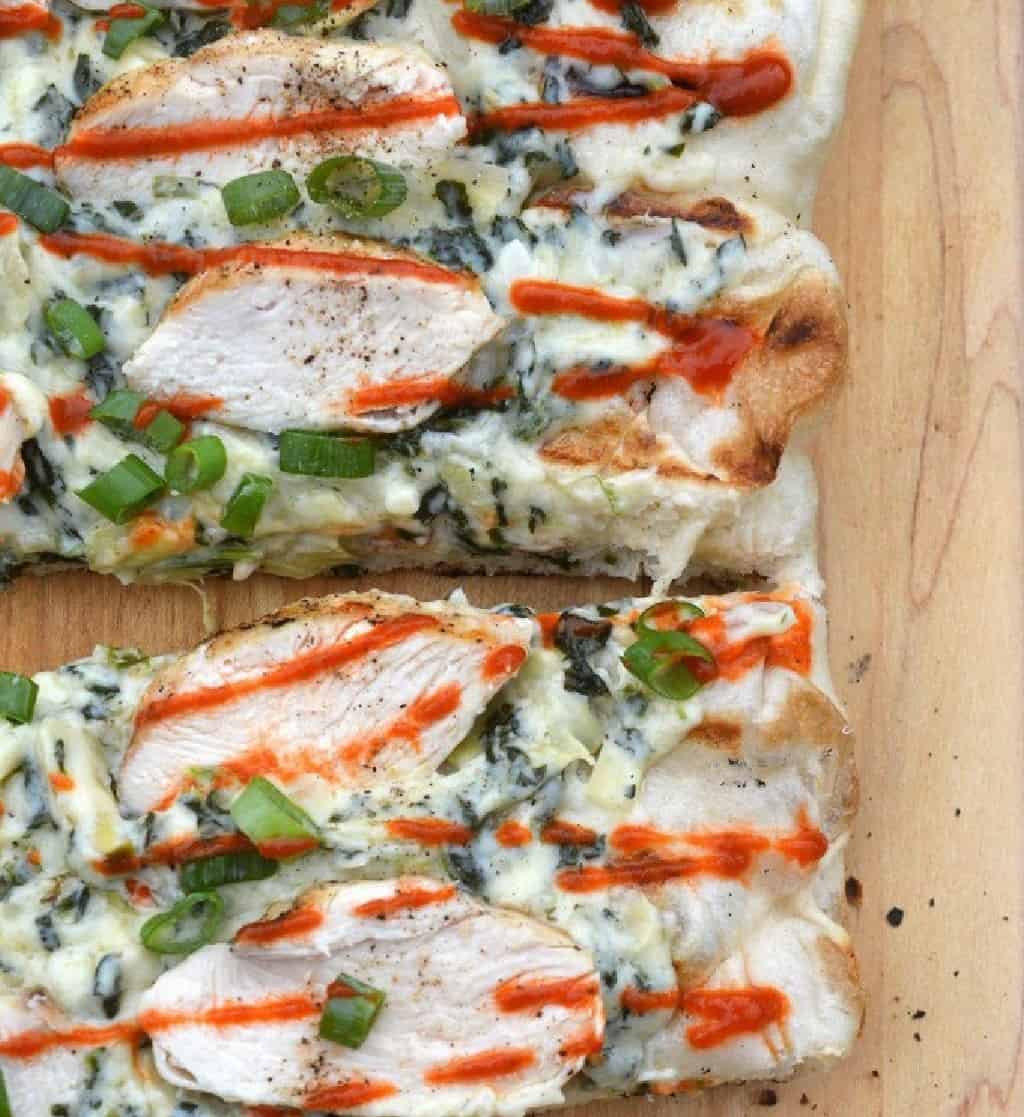 Flat breads came on the scene a couple of years ago where I live, and they quickly began stealing the show, and I know why! They are easy to make and very versatile.  You can choose to make a flat bread with or without yeast and with just about any combination of toppings imaginable.
Flat breads can be as delicious as pizza. I think for the most part that they are more creative, alleviating the worries of having the perfect pan or stone on which to cook a pizza as well as perfecting their circular shape and crust. Know what I mean?
This recipe is great because: 1) You get a deliciously different idea for a flatbread that can either be used as an entrée or cut up in smaller sections and served as an appetizer; and 2) You can save half of the spinach and artichoke dip and use it as a traditional dip. So it's a 2-fer!
You can make the dip a day ahead and simply reheat it in a pot on the stove, then keep it warm in a small crock pot. I have been making this dip for two decades! It is a party favorite, and many ask for the recipe.
This Spinach and Artichoke Dip mingled with simple grilled chicken breasts atop a beautiful crust is crazy good! When you kick it up a notch with a Sriracha drizzle, it hits every note! My son tore it up. and so did the rest of us!
Confession: I almost never make my own pizza dough. I figure my local pizza place is excellent at making the dough, since that is what they do, and for $2.50 per disc, no mess, no stress, and no wait time? That is so worth it to me. Little do they know that I would happily pay double!
Why You Might Want to Try Grilled Spinach and Artichoke Flatbread With Chicken and Sriracha Recipe
Searching for an appetizer that sparks conversation at gatherings or a main course that satisfies cravings with a twist? Look no further. This fusion flatbread captures the essence of diverse cuisines, infusing them with your favorite comfort foods.
The medley of textures, from the crispy flatbread to the tender chicken and the creamy Sriracha sauce, will captivate your taste buds with each bite. Whether enjoyed solo or shared with friends, this recipe brings a burst of excitement to your dining experience.
Can I Bake the Flatbread Instead of Grilling It?
Absolutely! You have a fantastic alternative to grilling! If you find yourself without a grill at hand, worry not. Baking the assembled flatbreads is a convenient and equally delicious option. Simply preheat your oven to 400°F (200°C), and within just 8–10 minutes, you'll have golden, crispy flatbreads ready to delight your taste buds.
The process is a breeze. Once your flatbreads are expertly topped with the luscious blend of spinach, artichoke, chicken, and cheese, slide them onto a baking sheet. Pop them into the preheated oven, and while they bake, the enticing aroma will start to fill your kitchen. Watch as the mozzarella cheese melts into gooey, irresistible perfection, melding with the flavors beneath.
With this method, you're still treated to the harmonious marriage of textures and flavors that makes this dish so appealing. The oven's heat transforms the flatbread into a crispy canvas that showcases the vibrant toppings. Whether grilling or baking, your Grilled Spinach and Artichoke Flatbread with Chicken and Sriracha will be the star of the meal, capturing the hearts of all who taste it.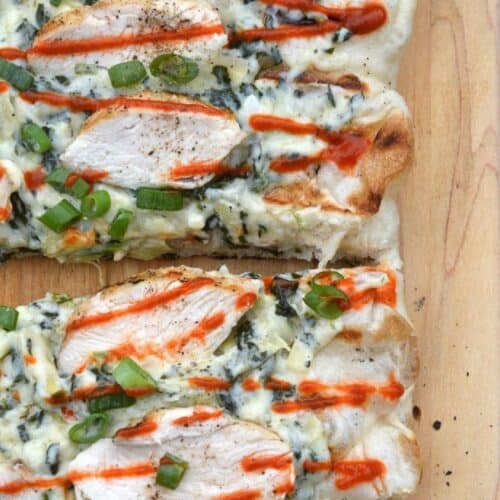 Grilled Spinach and Artichoke Flatbread With Chicken and Sriracha
Elevate your taste buds with the delectable Grilled Spinach and Artichoke Flatbread featuring savory chicken and a touch of Sriracha heat. This harmonious blend of textures and flavors is a culinary masterpiece that marries the classic spinach and artichoke dip with the satisfying crunch of flatbread. Ideal for gatherings or a solo treat, this recipe promises a delightful journey for your palate.
Ingredients  
2

boneless chicken breasts

Salt and Pepper

1

disc of pizza or flatbread dough

homemade or store-bought

1/2

teaspoon

olive or grapeseed oil

Spinach and Artichoke Dip

3

scallions

thinly sliced

Sriracha
Instructions 
Oil your grill and preheat to medium-high heat.

Salt and pepper your chicken breasts and grill until done. Approximately 3-4 minutes per side, depending on the size of the breasts. If you use a thermometer, grill until they reach an internal temperature of 450° to prevent them from drying out.

Once the chicken is done, pull from the grill and let it rest.

While the chicken is grilling, shape your dough into an oval or rectangular shape. Using your fingertips, coat both sides lightly with the oil, then season with salt and pepper. Place the prepared dough on a baking sheet.

Lower your grill heat to medium, carefully flip your dough onto the grill, close the lid, and allow it to cook 3-4 minutes. Take a peek. Lift with a spatula and check for grill marks and a crispy crust. If you have that, gently flip it over. If not, allow it to grill for another minute or two.

Once you've flipped the dough, close the lid and turn off the grill. Allow the residual heat to do the rest. In 2-3 minutes, it should be perfect!

Remove the bread/crust from the grill and smear it liberally with the Spinach and Artichoke Dip.

Slice the chicken and place in dip atop the crust. Season with salt and pepper.

Scatter the scallions over-top, drizzle with Sriracha, cut into portions, serve, and enjoy!
Notes
Tips:
Feel free to customize the toppings with your favorite ingredients, such as bell peppers or feta cheese.

If you prefer a milder heat, reduce the amount of Sriracha in the sauce.

This recipe can easily be doubled for larger gatherings.
Nutritions
(Per serving):
Calories: 320 kcal

Fat: 14g

Carbohydrates: 28g

Protein: 24g

Fiber: 4g
FAQs on Grilled Spinach and Artichoke Flatbread With Chicken and Sriracha Recipe
Can I use store-bought flatbreads?
Absolutely! Store-bought flatbreads work well in this recipe, saving you time and effort.
Can I make the Sriracha sauce ahead of time?
Yes, you can prepare the Sriracha sauce a day in advance and store it in the refrigerator.
Can I use a different protein?
Of course! Grilled shrimp or even tofu can be delightful substitutes for chicken.
Can I skip the honey in the Sriracha sauce?
Yes, you can omit the honey if you prefer a spicier sauce. The honey adds a touch of sweetness to balance the heat.
Is the spinach cooked before topping the flatbread?
No, the chopped baby spinach is used fresh as a topping and will wilt slightly during grilling.
Can I add extra toppings to the flatbread?
Absolutely! Get creative with toppings like roasted red peppers, sun-dried tomatoes, or even sliced olives to enhance the flavors.