Grilled Philly Cheesesteak Stuffed Peppers Sandwich – Recipe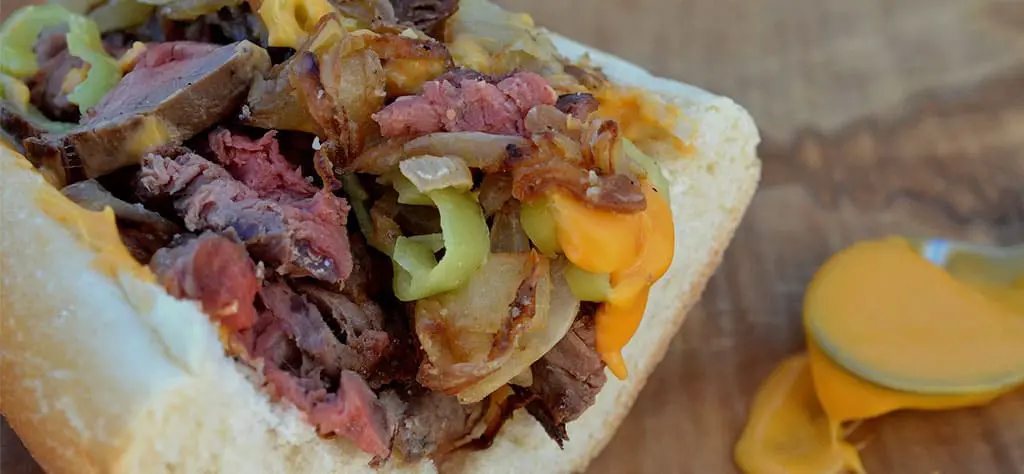 Hey there, fellow food enthusiasts! If you're a fan of the mouthwatering flavors of a classic Philly Cheesesteak, get ready for a tantalizing twist that'll take your taste buds on an adventure. Introducing the Grilled Philly Cheesesteak Stuffed Peppers Sandwich, a delightful fusion of the iconic Philly sandwich and the goodness of stuffed peppers.
Traditionally, Philly Cheesesteaks are made with chipped beef that comes in super thin slices that get placed on the flat grill top to cook through before it's quickly chopped. Toppings get added, like fried onions, mushrooms, peppers, pepperoni, or whatever else you dream up.
The cook uses his spatula and portions out a pile for each sandwich, tops the meat pile with American or provolone cheese slices, lets the cheese melt just a bit, then scoops it up faster than you thought possible with a spatula and slides it into the roll (which may be slathered with mayo or left dry). Seconds later, it's wrapped in a paper-lined aluminum wrapper and sent off to a lucky recipient.
Why You'll Want to Try It
Imagine tender beef, caramelized onions, and gooey cheese, all cozily tucked inside a vibrant pepper. It's like a handheld feast that's sure to become a new favorite. Picture this: the sizzle of beef on the grill, the irresistible aroma of sautéed onions, and the anticipation of biting into a medley of flavors that capture the essence of Philadelphia's culinary legacy.
This recipe is an exciting variation that pays homage to the original Philly Cheesesteak while adding a creative twist that surprises and delights. Plus, it's a versatile dish; whether you're hosting a casual gathering or just looking to enjoy a satisfying meal, these stuffed pepper sandwiches are a perfect fit.
Overview of Ingredients and Directions
If you visit Pat's or Geno's—the two landmarks in center city Philly who notoriously battle it out for supremacy—you'll hear "Cheesesteak American Wit" or "Cheesesteak Whiz Widdout." All Day Long. Translation: The wit and the widdout refer to with or without fried onions.
For my take on The Best Grilled Philly Cheesesteak, I went "wit." I started by cooking a pan of sautéed, slightly caramelized onions on the grill, and and then I finished with a perfectly grilled piece of beef tenderloin.
The meat of a traditional cheesesteak is cooked through; however, to honor the cut of meat I chose, I went with a medium cook. Sliced thin, or it's not a real Philly Cheesesteak.
I made one sandwich with the American cheese I grew up with and another using the typical Philly Cheese Wiz, as well as a handful of hot pepper rings. Both my husband and I preferred the American. Feel free to use provolone, if that's your thing.
I'll be honest with you. The very thought of putting cheese on Filet Mignon was making every part of me very nervous, I knew it was a bad idea. Boy, was I wrong.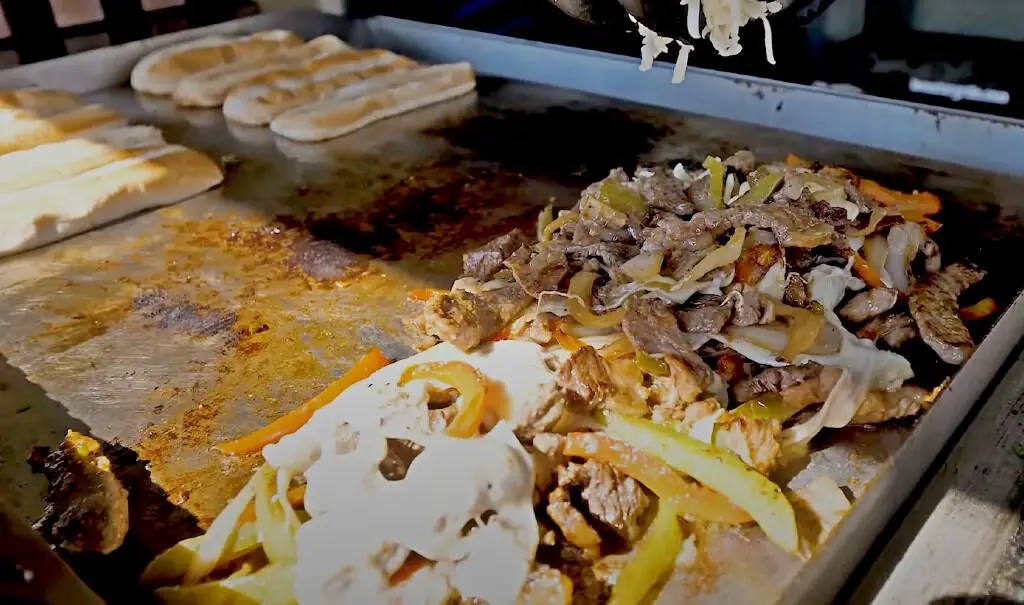 To whip up this delectable dish, gather your ingredients: succulent beef tenderloin, sweet Vidalia onions, butter, cheese options like American, Provolone, or Cheese Wiz, and a choice of accompaniments such as hot peppers, mayonnaise, or sautéed mushrooms.
As the grill heats up, season your meat and prepare the onions by sautéing them to caramelized perfection. After grilling the meat, let it rest before slicing it thin. Now comes the exciting part—assembling your sandwiches. Slice your rolls, pile on the beef, and layer it with those wonderfully caramelized onions. Top it off with cheese that melts from the warmth of the meat. For an extra kick, add hot peppers or sautéed mushrooms. And there you have it – a culinary masterpiece that marries the essence of Philly with the satisfying crunch of stuffed peppers.
So, whether you're looking to impress your taste buds or surprise your guests with a unique culinary creation, the Grilled Philly Cheesesteak Stuffed Peppers Sandwich is a recipe that'll have you craving its mouthwatering flavors again and again. Get ready to sink your teeth into a savory blend of textures and tastes that'll redefine your sandwich experience.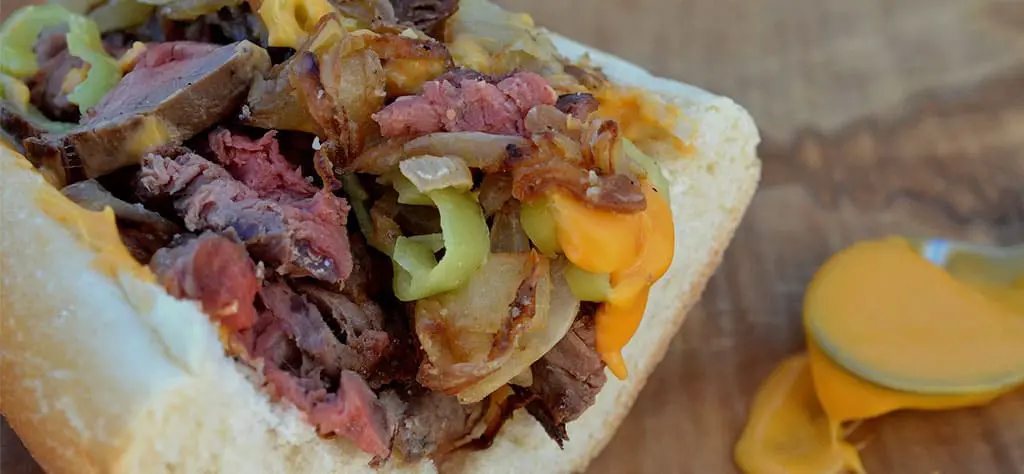 Grilled Philly Cheesesteak Stuffed Peppers Sandwich
The cheesesteak was exceptional! I mean…you start with a great cut of meat and grill it. The traditional greasiness of a cheesesteak is gone. What you end up with is bite after bite of onions mingling with filet and bits of gooey cheese here and there, held in place with a crisp-tender roll. Yes, yes, YES! I may never order a cheesesteak again! Pat's and Gino's…you better watch out!
Ingredients  
2

pound

beef tenderloin or tenderloin tail

2

large Vidalia onions

2

Tablespoons

butter

Salt and pepper

to taste

3

Philly style "steak" rolls or whatever crispy outside

tender inside roll available in your region

Cheese

American, Provolone or Cheese Wiz, room temperature

Accompaniments such as hot peppers

mayonnaise, sauteed mushrooms
Instructions 
Preheat grill to medium-high heat.

Season the meat.

Slice onions. Melt butter and sauté onions in a grill pan until slightly caramelized, season and set aside.

Grill meat until done to your liking. Depending on the thickness of meat, 12-20 minutes should do it. Allow to rest for 6-10 minutes.

Reheat onions briefly.

Slice rolls. You can tear out a little of the bread if your roll is dense.

Slice meat thin. Pile it onto your roll with some of the onions.

Add cheese quickly so the heat of the meat melts it a little. (See notes).

Add on hot peppers or sautéed mushrooms if you'd like. Take a big bite…repeat.
Notes
Tips:
As I stated earlier, typically the cheese is added while the meat and onion are on a very hot griddle. If you are using Wiz, melt that in your microwave. If using American, you can also tear a dozen slices up in a small bowl, add a little milk and use your microwave in 30 second increments to melt it, stirring furiously until it is smooth and place it over top of your sandwich with a spoon. OR you can allow your sandwich to sit in a hot oven for 2 minutes to help the cheese melt and crisp the roll.

For an authentic touch, use Cheez Whiz or American cheese instead of provolone.

You can also use chicken instead of beef for a delicious twist.

If you prefer a softer roll, you can lightly toast the hoagie rolls on the grill before assembling the sandwiches.
Nutrition:
Calories: ~550 per sandwich

Protein: ~35g

Carbohydrates: ~40g

Fat: ~25g

Fiber: ~3g

Note: Nutritional values may vary depending on specific ingredients used.
FAQs on Grilled Philly Cheesesteak Stuffed Peppers Sandwich – Recipe
Can I use a different type of cheese?
Absolutely! While provolone is classic, you can experiment with other cheeses like American, cheddar, or Swiss.
What's the best way to slice the beef thinly?
For easier slicing, freeze the beef for about 30 minutes before slicing it against the grain.
What's the secret to perfectly caramelized onions?
Slow and low is the key. Cook the onions over medium heat, stirring occasionally, until they turn golden and sweet.
What if I'm not a fan of peppers?
Feel free to omit the peppers or substitute them with sautéed mushrooms for extra flavor.
What makes a Philly Cheesesteak "authentic"?
Authentic Philly Cheesesteaks are made with thinly sliced ribeye or top sirloin, sautéed onions, and Cheez Whiz or provolone cheese, all served on a hoagie roll.
What's the origin of the Philly Cheesesteak?
Pat Olivieri is credited with creating the sandwich in the 1930s in Philadelphia. It quickly gained popularity and became a beloved street food.

The combination of flavors and textures is simply delightful. It's like a symphony for the taste buds.