Grilled Pound Cake With Cherry Bourbon Compote Recipe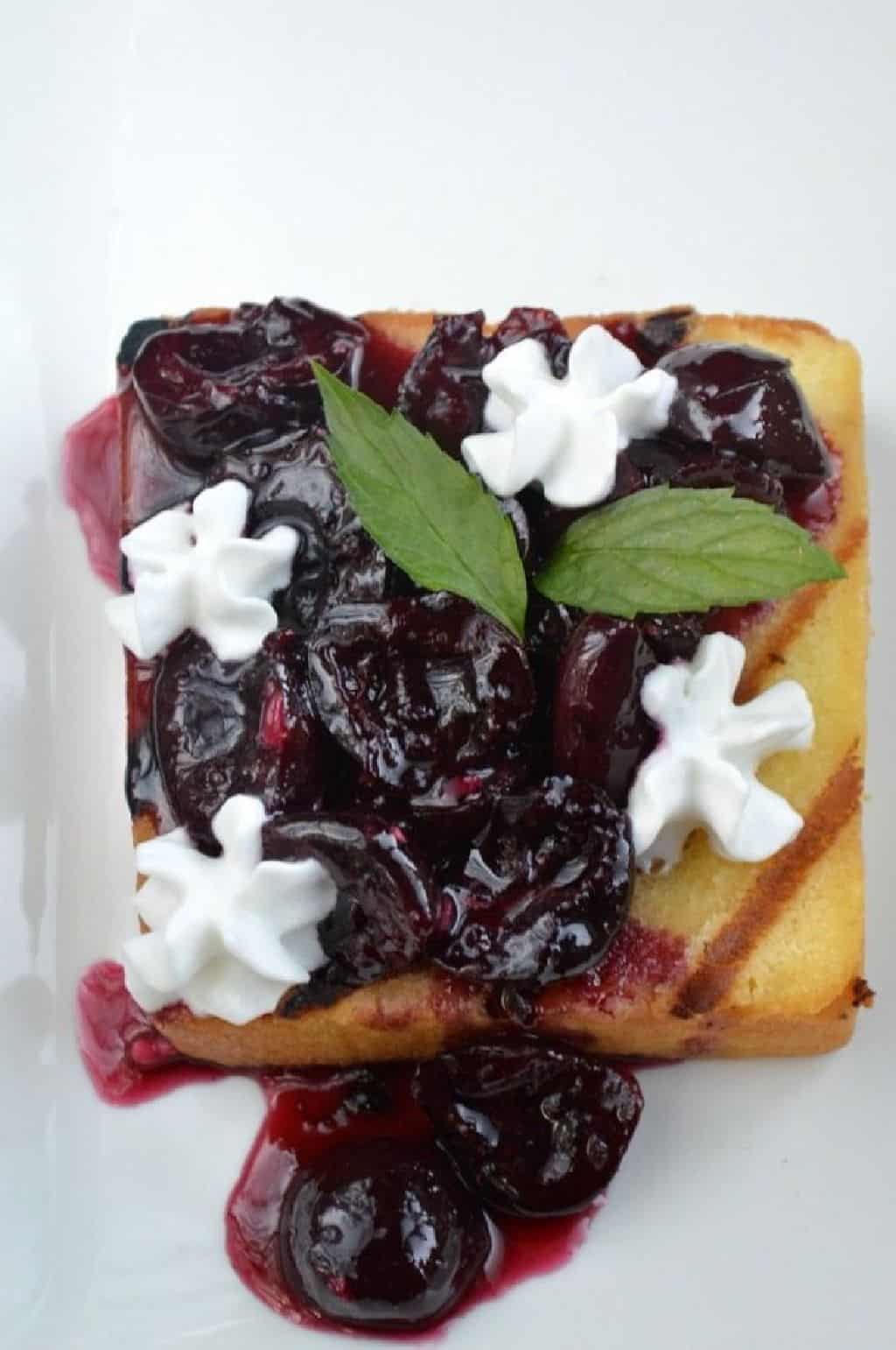 Looking for an easy yet sophisticated dessert idea to top off a great dinner? I've got one for you today—one that allows you to make the whole thing right on your grill.
Using your grill to make dessert is a smart and delicious idea. You don't have to leave your guests, for one thing, but instead, you can stay connected to the conversations and fun outside. Plus, it shows that you're a serious griller! The first time I ever made dessert on the grill, my family was like, "Whoa!" (Little do they know just how simple it can be, but that can be our secret.)
Why You Should Try Grilled Pound Cake With Cherry Bourbon Compote Recipe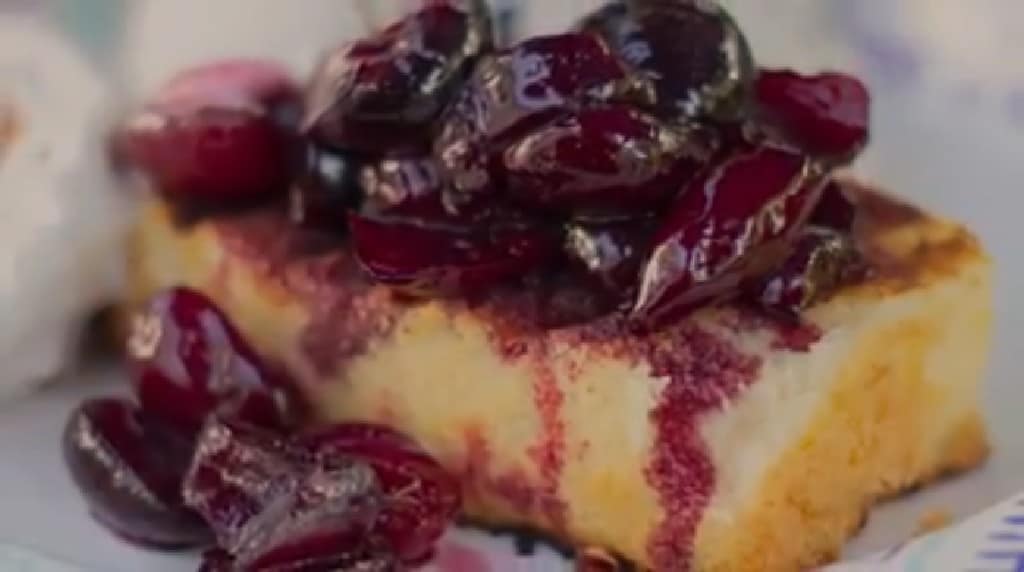 Have you ever grilled pound cake? It's delicious, and it is the perfect vehicle for a number of toppings. Since cherries are everywhere at the moment, I decided to top mine with a delicious Cherry Bourbon Compote. If you wish to omit the bourbon, feel free. The compote is still delicious on its own.
Normally, my kids would be happy to help prepare this dessert. Who am I kidding? They are happy to prepare any dessert! However, they are off on a summer adventure with their grandma.
For this Grilled Pound Cake With Cherry Bourbon Compote, you can choose to buy a pound cake or make your own. It's up to you. My local farmer's market carries the legendary Stock's Pound Cake (from Philadelphia's Stock's Bakery). So I decided to buy the slices I needed from them.
After that, all I had to do was pit the cherries and set them aside until dessert time. Then, I simply combined the ingredients for the compote in a small pan and cooked it up on the side burner of my grill. Such a great feature! Once the cherries were done, I simply brushed the pound cake slices with butter and let the grill give them some lovely char marks and heat them through, which takes less than two minutes.
Spoon cherries over top, add a couple of garnishes, and you have yourself a beautiful, fresh, easy-to-prepare dessert from the grill!
Feel free to use any flavor of pound cake—lemon, chocolate, marble, etc. You can change up the fruit to any berry or maybe some grilled fruits (grilled stone fruits). And if you're not feeling a compote, just make a simple honey-lime sauce for topping, or try soaking the pound cake in rum first and topping with fresh grilled mango.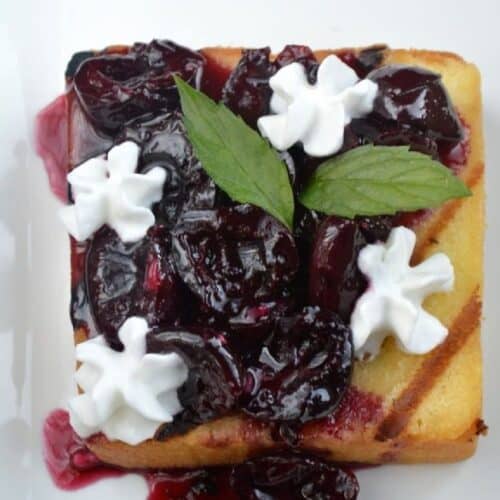 Grilled Pound Cake With Cherry Bourbon Compote
Indulge in a symphony of flavors with this Grilled Pound Cake with Cherry Bourbon Compote. A fusion of moist pound cake, kissed by the grill's warmth, and a luscious cherry bourbon compote that's both sweet and tangy. This recipe presents a delightful treat that's perfect for any occasion, elevating your dessert game to new heights.
Ingredients  
1 1/2

cups

pitted and halved cherries

3

Tablespoons

sugar

2

Tablespoons

water

1/4

teaspoon

cinnamon

1 1/2

teaspoons

cornstarch

1-2

Tablespoons

Bourbon or Rye

3

Tablespoons

butter

melted

4

thick slices of pound cake

Optional garnish: Mint & whipped cream
Instructions 
Pit your cherries and set aside until ready to cook.

When ready to make the compote, combine cherries, sugar, water, and cinnamon. Cook over medium-high heat until mixture is bubbling.

Continue to cook for a couple of minutes, stirring often. Stir in the cornstarch until it dissolves, and allow the mixture to bubble and thicken.

Add in the bourbon and mix until evenly incorporated. Taste and adjust if necessary. Remove from heat and allow it to cool. The compote will thicken a little as it cools.

Heat your grill to medium heat. Brush one side of each of the slices of pound cake with the melted butter. Be sure to coat the whole side.

Moving quickly, place two slices on the grill, brush the other side with butter, and using a spatula, gently slide it under and flip the slice over. All you are doing here is looking for grill marks. It will only take 30-60 seconds per side (depending on your grill) . To make it easy to flip, use another small spatula as a brace for the back end of the cake, so your spatula easily slides underneath.

Repeat with the other two slices. Plate the slices, top with the compote, accent with whipped cream and mint, and enjoy!

You can make the compote ahead of time. You can choose to serve it warm, at room temperature, or cold. It is also fantastic over ice cream!
Notes
Tips:
You can use homemade pound cake if you prefer.

If bourbon isn't your thing, you can substitute orange juice for a non-alcoholic version.

The compote can be made ahead and refrigerated. Just reheat gently before serving.
Nutritions
(Per serving):
Calories: 320 kcal

Fat: 14g

Carbohydrates: 43g

Sugar: 28g

Protein: 4g
FAQs on Grilled Pound Cake With Cherry Bourbon Compote Recipe
Can I use frozen cherries for the compote?
Yes, you can use frozen cherries, but fresh cherries tend to have a better texture and flavor.
Can I grill the pound cake on a stovetop grill pan?
Absolutely, a stovetop grill pan works just as well if you don't have an outdoor grill.
Is the bourbon flavor strong in the compote?
The bourbon adds depth to the compote without overpowering it. If you're concerned, you can reduce the amount or use a milder whiskey.
Can I use a different type of fruit for the compote?
Certainly! Berries, peaches, or even raw figs would make great alternatives.
Can I use a different type of alcohol for the compote?
Sure, you can experiment with different spirits, like rum, brandy, or bourbon, for a unique flavor twist.
Can I serve the compote cold?
While it's traditionally served warm, you can certainly enjoy the compote cold as well.
Do I need to pit the cherries by hand?
Pitting cherries by hand can be time-consuming. You might consider investing in a cherry pitter to make the process easier.