Gravy Smothered Brisket and Mashed Potatoes – Recipe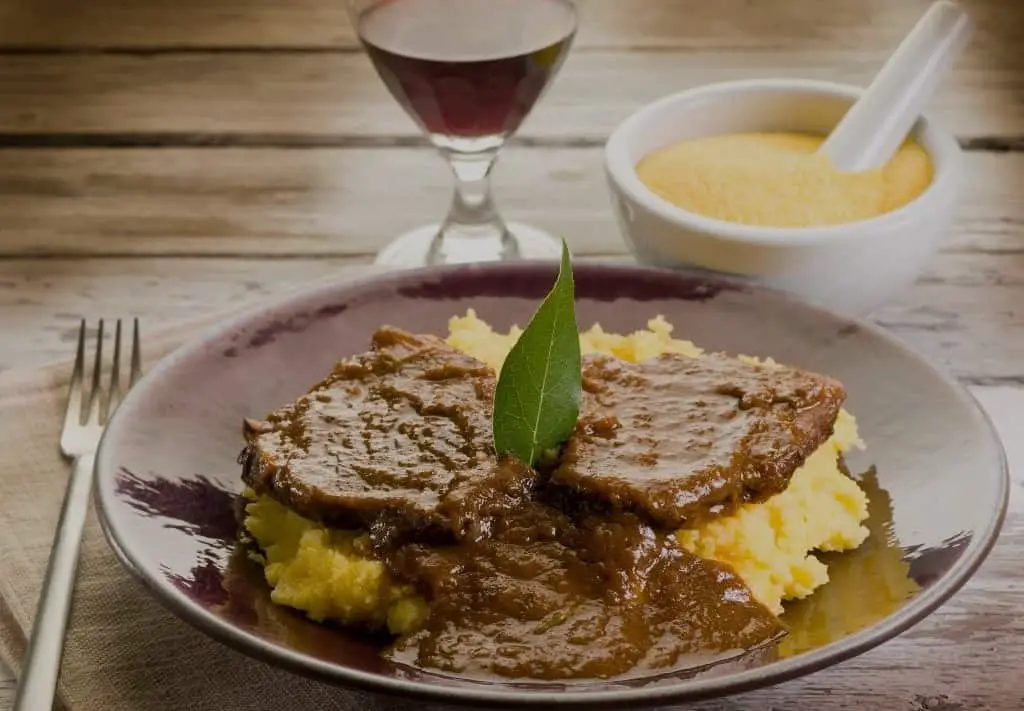 There's something magical about sinking your fork into tender brisket smothered in rich gravy, and each spoonful of creamy mashed potatoes. This recipe isn't just a meal; it's a comforting symphony of flavors and textures that's sure to become a cherished favorite. Despite its slow cooking time, the result is nothing short of culinary perfection.
Why You'll Want to Try It: A Tale of Comfort and Homestyle Goodness
Picture this: a brisket that's been patiently slow-cooked until it's so tender it practically melts in your mouth, all nestled in a luscious gravy. Paired with velvety mashed potatoes, this dish wraps you in a warm embrace of homestyle goodness. It's an invitation to indulge in comfort food at its finest—rich, hearty, and brimming with the kind of flavors that remind you of home.
Ingredients and Journey of Creation: A Preview
Before we delve into the details, imagine the aroma that fills your kitchen as you prepare this masterpiece. The rolled beef brisket, seasoned to perfection, is browned and set aside. But it's the onions, garlic, and mushrooms that steal the show, their flavors mingling and dancing in the pan. The slow cooker takes over, bringing all the elements together over hours of patient cooking. And then, finally, the moment arrives—a slice of that tender brisket, a scoop of mashed potatoes, and a ladle of that luxurious mushroom gravy.
Stay tuned for the full journey as we guide you through each step, from the initial browning of the meat to the slow cooker magic that transforms it into a dish that promises comfort, flavor, and a touch of nostalgia.
How To Thicken the Gravy if Needed?
Elevating your gravy from a delightful drizzle to a sumptuous smothering is simpler than you might think. If you find your gravy needs a touch more thickness, fret not—there's an easy solution. Here's how to achieve that luscious consistency:
1. Create a Cornstarch Slurry
In a small bowl, combine cornstarch with an equal amount of cold water. This creates a slurry that acts as a natural thickener. The cornstarch is like a culinary magician, transforming your thin gravy into a velvety masterpiece.
2. Introduce the Slurry to the Gravy
Gently heat your gravy, allowing it to simmer on low. This is the magical moment when your culinary artistry takes shape. Slowly pour the cornstarch slurry into the simmering gravy, all the while whisking gently. As the slurry melds with the gravy, you'll notice it transforming before your eyes—gradually thickening, becoming richer and more luxurious.
3. Watch the Transformation
As you continue whisking, you'll witness the gravy's texture evolve, from a liquid drizzle to a velvety, coating consistency. It's a satisfying process that adds an extra layer of decadence to your already scrumptious dish.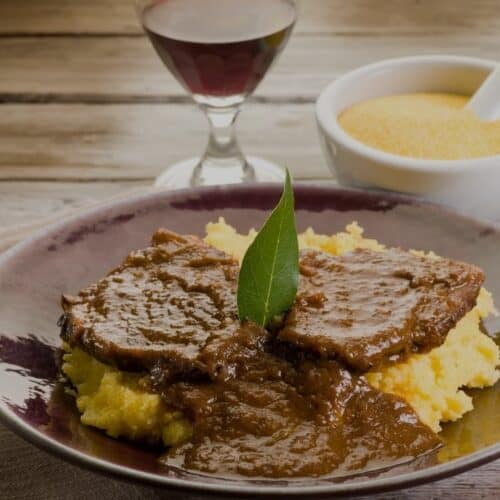 Gravy Smothered Brisket and Mashed Potatoes
Indulge in the heartwarming embrace of Gravy Smothered Brisket and Mashed Potatoes—a timeless culinary symphony that combines the tender succulence of brisket with the velvety allure of mashed potatoes. This recipe invites you to savor the ultimate comfort food experience, where rich flavors and satisfying textures meld into a dish that soothes the soul.
Ingredients  
2

lbs

rolled beef brisket

salt and pepper

1-2

tbsp.

olive oil

3

tbsp.

splash sherry wine

4

large red onions

peeled and sliced

2

large garlic cloves

peeled and finely sliced

1

tsp

sugar

10

cup

button chestnut mushrooms

sliced in half

1

cup

beef stock

1

tbsp.

low-sodium soy sauce

2

tsp

English mustard

1

tsp

Worcestershire sauce

¼

cup

double cream

1

tbsp.

cornstarch mixed with 1 tbsp. cold water
Instructions 
Dry the meat with paper towels, then season generously with salt and pepper.

Heat the olive oil in a large frying pan and brown the meat on all sides. Set aside on a plate.

Deglaze the pan with a splash of wine and pour the pan juices into a container to use later.

Mix the corn starch with the cold water to make a slurry. Mix the beef stock with the reserved pan juices, soy sauce, Worcestershire sauce, corn starch and English mustard.

Add a little more oil to the pan and pan fry the onions and garlic over medium-low heat. Season and sprinkle them with the sugar and continue to cook, stirring for 7-10 minutes.

Add the chopped mushrooms and pan fry for a minute then add the stock. Bring to a simmer and transfer to your slow cooker. Add the bay leaf and thyme sprig.

Add the brisket, fat side up, and cook for 4 hours on high or 7 hours on low.

Remove the brisket from the slow cooker and put on a plate, loosely covered with foil.

Add the cream to the slow cooker and cook on high, uncovered, for another 20 minutes. Stir in the chopped parsley.

Slice the brisket and serve with mashed potatoes and smothered in the mushroom gravy.
Notes
Tips:
For a richer gravy, strain the cooking liquid and reduce it on the stovetop before serving.

Experiment with different wine varieties to personalize the flavor profile of the gravy.

Don't overmix the mashed potatoes to avoid a gummy texture.

Leftover brisket can be refrigerated for up to 3 days or frozen for later enjoyment.

Serve with your favorite vegetables or a side salad to balance the meal.
Nutrition (per serving):
Calories: 480

Protein: 32g

Carbohydrates: 35g

Dietary Fiber: 4g

Total Fat: 24g

Saturated Fat: 10g

Cholesterol: 120mg

Sodium: 950mg
FAQs on Gravy Smothered Brisket and Mashed Potatoes – Recipe
Can I use a different cut of meat for this recipe?
While brisket is traditional, cuts like chuck roast can also be used for tender results.
Can I make the brisket in the oven?
Absolutely, follow the same steps and cook covered at 300°F for 4-5 hours.
What can I use as a wine substitute in the gravy?
Beef broth or red grape juice can replace the wine for a non-alcoholic version.
Can I use a hand mixer for the mashed potatoes?
For the fluffiest results, opt for a potato masher or fork to prevent overmixing.
How do I know when the brisket is done cooking?
It's done when it's fork-tender and easily shreds with a gentle pull.
Can I add cheese to the mashed potatoes for extra flavor?
Absolutely, grated cheddar or Parmesan can be a delightful addition.
What's the best way to reheat leftovers?
Reheat brisket in the oven at 325°F until warmed through. Warm mashed potatoes on the stovetop with a splash of milk to maintain their creaminess.

I'm always on the lookout for Mashed Potatoes recipes, and this one hits the mark.