Apple Sausage Egg Skillet Recipe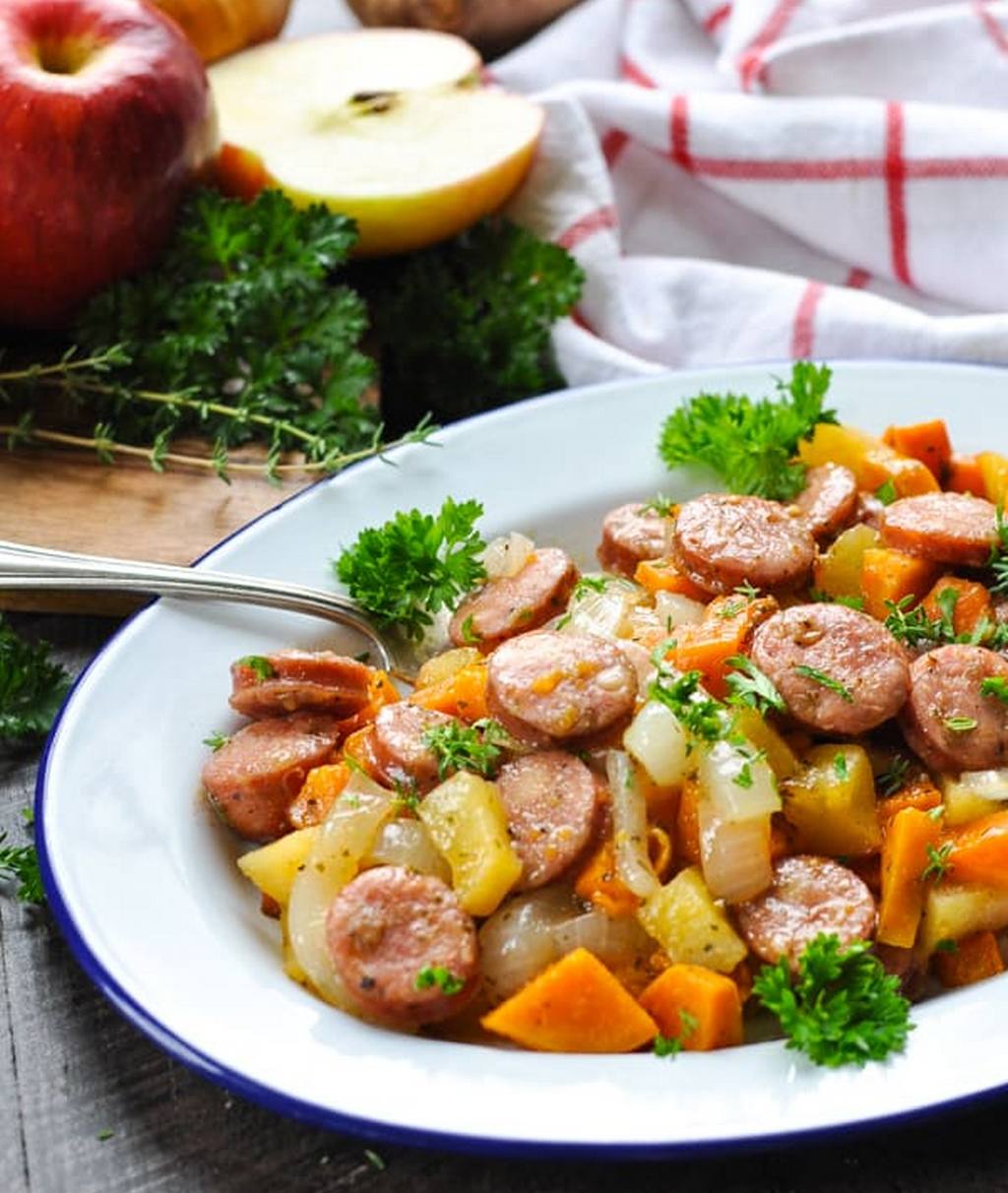 Introduction and Background of the Apple Sausage Egg Skillet Recipe
I first came across this Apple Sausage Egg Skillet recipe during a cozy brunch at a quaint café in the countryside. The combination of sweet and tart Granny Smith apples, savory pork sausage, and the creaminess of Swiss and Gruyere cheeses instantly won me over. 
This hearty skillet dish has since become a favorite in my household, especially during the fall season when apples are at their best. It's a comforting and filling breakfast that's perfect for fueling you until lunchtime.
Why I Love This Recipe and Why You Should Try It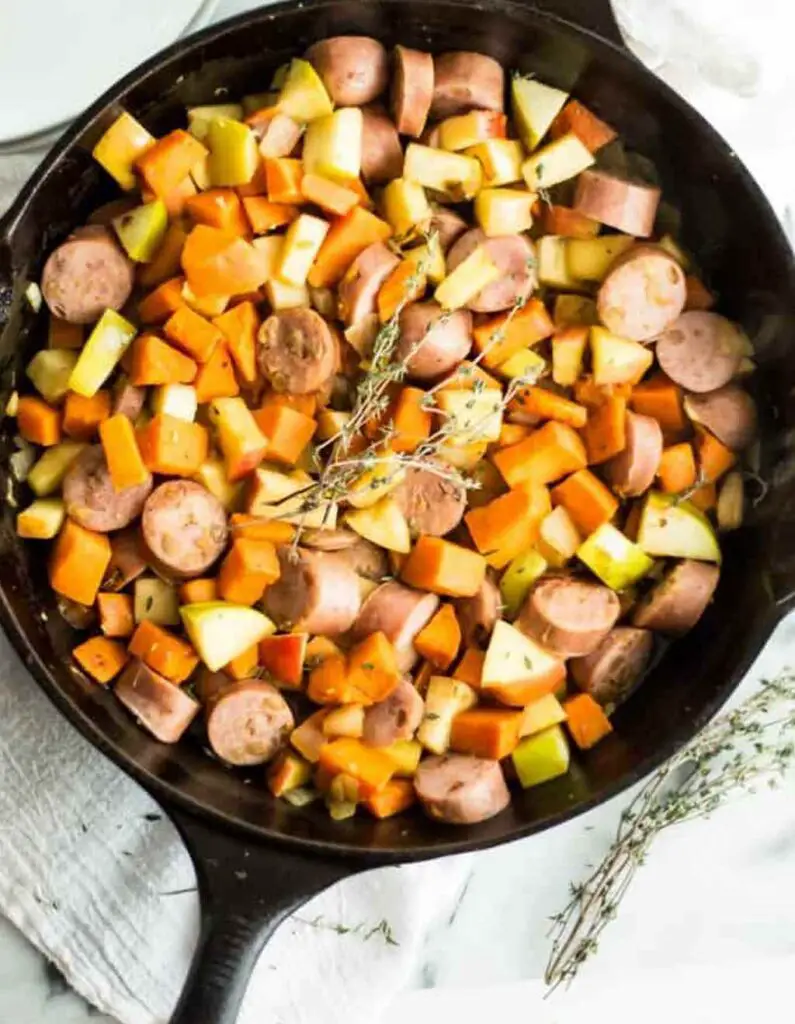 What sets this Apple Sausage Egg Skillet apart for me is its delightful blend of flavors and textures. The apples add a burst of freshness and a touch of sweetness, perfectly complementing the savory sausage and earthy potatoes. 
The eggs, cooked right in the skillet, bring everything together with their creamy yolks. And let's not forget the cheeses; Swiss and Gruyere create a gooey, melty layer that's simply irresistible. This recipe's simplicity and the way it effortlessly combines sweet, savory, and cheesy elements make it a must-try for anyone looking to elevate their breakfast game.
Key Ingredients and Their Purpose
Pork Sausage: The sausage provides a rich, savory flavor that forms the foundation of this dish.
Granny Smith Apples: These apples add a tart and slightly sweet contrast to the savory elements, enhancing the overall flavor profile.
Potatoes: Diced potatoes add a hearty, starchy component that complements the sausage and apples while adding a satisfying texture.
Kosher Salt and Black Pepper: These seasonings enhance the taste of all the ingredients, bringing out their natural flavors.
Cage-Free Eggs: The eggs serve as the binding element, creating a creamy texture as they cook and bind everything together.
Swiss and Gruyere Cheese: These cheeses contribute a creamy, cheesy goodness that blankets the entire dish, adding richness and depth.
Green Onions: Chopped green onions provide a mild onion flavor and a pop of color to the skillet.
Cayenne Pepper: Just a hint of cayenne pepper gives the dish a subtle kick, balancing the sweetness of the apples.
Instructions and Summary
To make this delightful Apple Sausage Egg Skillet, start by cooking the pork sausage until it's nicely browned. Then, add in the diced potatoes, apples, green onions, cayenne pepper, salt, and ground pepper, cooking until the potatoes turn golden brown. Lower the heat, create six indents on the surface, crack an egg into each one, and cook until the eggs are set. Finally, top the skillet with Swiss cheese and serve. In just a few simple steps, you'll have a satisfying breakfast that's sure to become a family favorite. Enjoy the harmonious blend of flavors and textures that make this skillet a standout morning meal!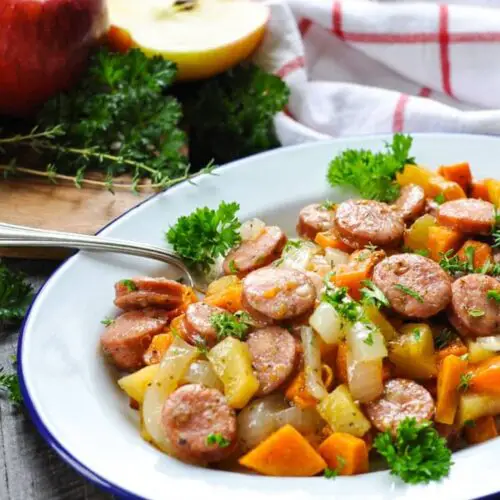 Apple Sausage Egg Skillet
Indulge in a hearty and flavorful breakfast with this Apple Sausage Egg Skillet recipe. This delicious dish combines the sweetness of apples, the savory goodness of sausages, and the richness of eggs, all cooked to perfection in a single skillet. Perfect for a lazy weekend brunch or a weekday breakfast treat, this recipe will become a household favorite.
Equipment
A large skillet

Wooden spoon or spatula

Mixing bowl

Whisk

Cutting board

Knife
Ingredients  
1

12 oz package pork sausage

3

granny smith apples

diced

3

C.

potatoes

diced

½

tsp.

kosher salt

1/8

tsp.

freshly ground black pepper

6

cage-free eggs

1

cup

of Swiss cheese

shredded

1

cup

Gruyere cheese

1

cup

chopped green onions

1/8

tsp.

cayenne pepper
Instructions 
Cook sausage over medium-high heat in a large pot.

Cook for 5 minutes, or until well browned.

Add diced potatoes, apples, green onions, cayenne pepper, salt, and ground pepper to the skillet.

Decrease heat to medium and cook for 8 minutes, or until potatoes are golden brown.

Lower the heat to low.

Make six indents on the surface of the potato mixture.

Crack an egg over each indent and cook for an additional 10 minutes, or until the eggs are set.

Top with Swiss cheese, and serve.
Notes
Tips:
You can use any variety of apples, but sweeter ones like Honeycrisp or Gala work well in this recipe.

Feel free to customize the recipe by adding vegetables like bell peppers or spinach.
If you like a spicier kick, choose spicy breakfast sausage.
Nutrition (per serving):