Lamb Kofta with Tzatziki Sauce Recipe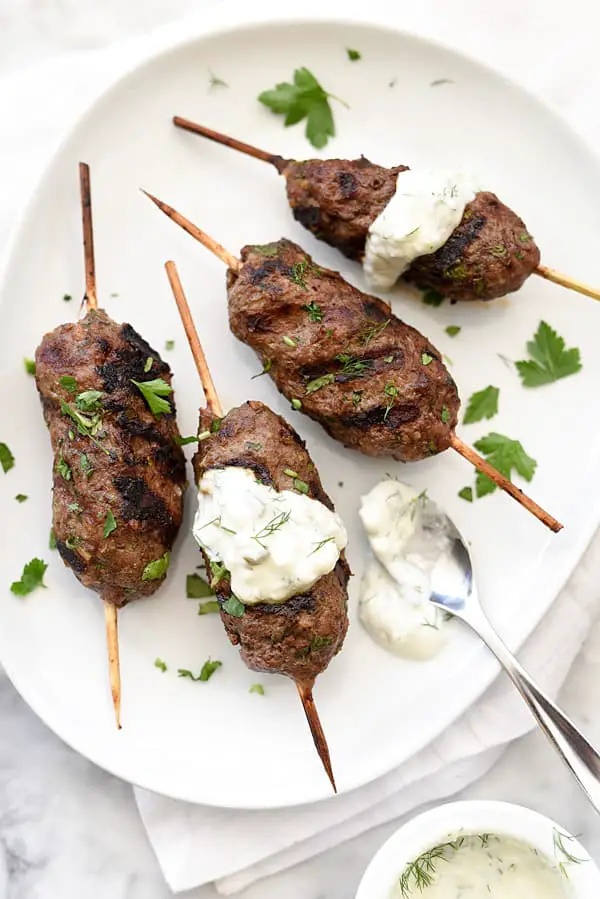 We've all had beef, chicken, pork, and fish on the grill, they're our most sought after go-tos. And while they're most often served as a whole, sometimes you'll find these main meal ingredients grilled as kabobs after marinating in sauce and then threaded with vegetables. They're a popular way to prepare for the grill because, let's face it, serving dinner on a stick is always more fun.
But when time is of the essence and there are no seconds to spare on the clock for marinades to seep in and flavor or veggies to cut, these simply skewered Lamb Koftas are an incredibly flavor-filled dinner on a stick.
Kofta may sound a bit exotic and unusual, but they're as much a staple to Mediterranean, Persian, and Lebanese eaters as burgers are to Americans. And they're really just as easy to prepare.
Why You'll Want to Try Lamb Kofta with Tzatziki Sauce
Imagine sinking your teeth into succulent kofta skewers, each bite bursting with the rich aroma of herbs and spices. The juicy ground lamb, accented with parsley, cilantro, and warm spices, makes for a tantalizing journey of tastes and textures. And what's kofta without its perfect partner? Tzatziki sauce, with its refreshing cucumber and yogurt base, offers a delightful contrast that soothes the palate and enhances the overall experience.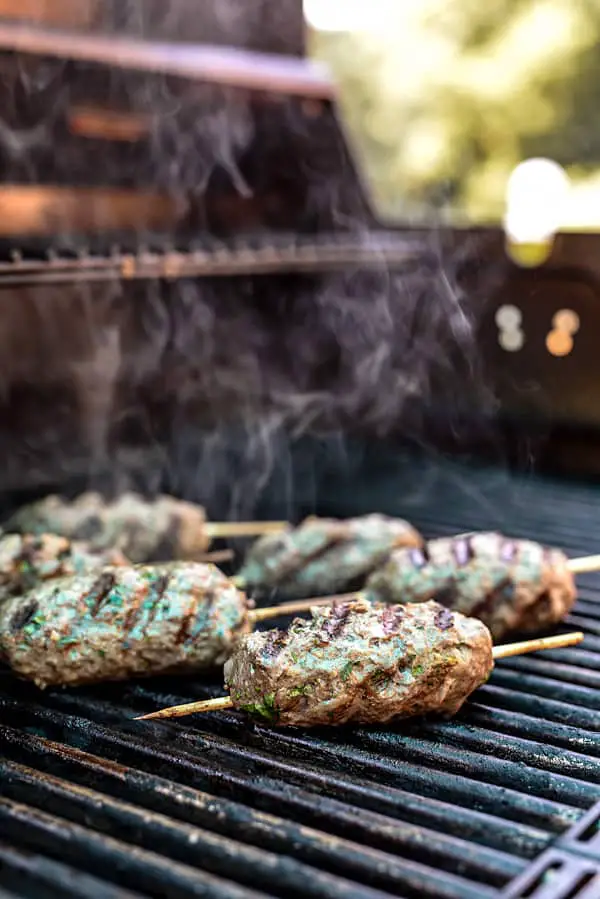 Traditionally made with ground lamb (ground chicken and ground turkey work well too), koftas are essentially elongated meatballs on a stick, minus any fillers like bread crumbs or binders like eggs. They're just pure meat with a handful of flavorful fresh herbs and warming spices like cumin, coriander, and cinnamon. Grated onion and minced or pressed garlic add another layer of heat to these simply prepared skewers of meat.
The tzatziki dipping sauce is what really adds to the flavor of these skewers. Greek yogurt flavored with fresh dill and grated cucumber mellows out the earthiness of the lamb, and with a spike of garlic, each bite is a total flavor burst of its own.
I used wooden skewers soaked for 15 minutes in water for each kofta. I prefer the wooden skewers because I can cut them to a shorter length for serving as an appetizer instead of a main meal. If you prefer metal skewers, by all means, use those instead.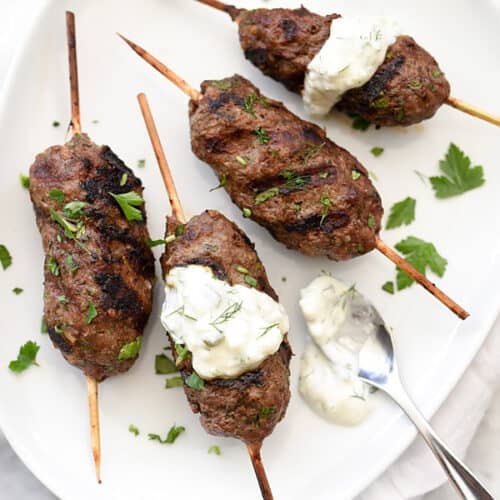 Lamb Kofta with Tzatziki Sauce
Indulge in the culinary delights of the Mediterranean with this Lamb Kofta with Tzatziki Sauce recipe. The succulent blend of ground lamb and aromatic spices, paired with the cool and creamy notes of tzatziki sauce, creates a harmony of flavors that's both satisfying and refreshing. Whether you're hosting a gathering or simply craving a delightful meal, this recipe promises to transport your taste buds to the sun-kissed shores of the Mediterranean.
Ingredients  
Ingredients for Lamb Kofta:
1

pound

ground lamb

1/4

cup

flat leaf Italian parsley

finely chopped

1/4

cup

cilantro

finely chopped

1/4

cup

white onion

grated

2

cloves

garlic

pressed or minced

1

teaspoon

cumin

1/2

teaspoon

cinnamon

1

teaspoon

kosher salt

1

teaspoon

freshly ground black pepper
Ingredients for Tzatziki Sauce:
1

seedless cucumber

1

cup

plain Greek yogurt

1

lemon

juiced

1

clove

garlic

pressed

1

tablespoon

fresh dill

chopped

Kosher salt and freshly ground black pepper
Instructions 
Preheat your grill to medium-high heat.

In a large bowl, combine the lamb, parsley, cilantro, onion, garlic, cumin, cinnamon, salt, and pepper. Gently mix the ingredients together. Wet your hands, scoop about ⅓ cups of the meat into your hands, and shape into oval shaped logs. Place on a sheet pan or plate covered with parchment paper, and refrigerate for about 30 minutes.

If using wooden skewers, soak the skewers in cold water for 15 minutes to ½ hours.

Once the grill is hot, oil the grates with grapeseed oil. Grill the skewers for about 5-6 minutes, turning occasionally so that grill marks form. Reduce the heat and cook the skewers for another 5-8 minutes, or until they begin to caramelize in color and the meat is cooked through.

Serve with Tzatziki sauce and garnish with additional parsley or other herbs if desired.

Directions for Tzatziki Sauce:

Peel and grate the cucumber; press out the excess water from the cucumber. Add the cucumber to a bowl with the Greek yogurt, lemon juice, garlic, and dill, and mix well. Season with kosher salt and pepper to taste.
Notes
Tips:
Wetting your hands while shaping the lamb mixture prevents sticking.

Soaking wooden skewers prevents them from burning on the grill.

Use a kitchen towel to squeeze out excess water from the grated cucumber for a thicker tzatziki sauce.
Nutrition (Per Serving):
Calories: 310 kcal

Total Fat: 20g

Saturated Fat: 8g

Cholesterol: 75mg

Sodium: 740mg

Total Carbohydrates: 9g

Dietary Fiber: 1g

Sugars: 4g

Protein: 24g
FAQs on Lamb Kofta with Tzatziki Sauce Recipe
Can I use a different meat for kofta?
While lamb is traditional, you can use ground beef or a mix of beef and pork for a different flavor.
Can I make the kofta mixture ahead of time?
Yes, you can prepare the mixture ahead and refrigerate until ready to shape and grill.
What can I substitute for Greek yogurt in the tzatziki sauce?
Yes, you can prepare the mixture ahead and refrigerate until ready to shape and grill.
Can I cook the kofta on a stovetop grill pan?
Absolutely, a stovetop grill pan works well for indoor cooking.
Can I freeze the uncooked kofta mixture?
It's best to freeze the cooked kofta for optimal texture.
Can I cook the kofta in the oven?
Yes, bake them at 375°F (190°C) for about 20-25 minutes, turning halfway.
What other dishes complement Lamb Kofta?
Pita bread, Greek salad, and roasted vegetables are great accompaniments.